Airports Seychelles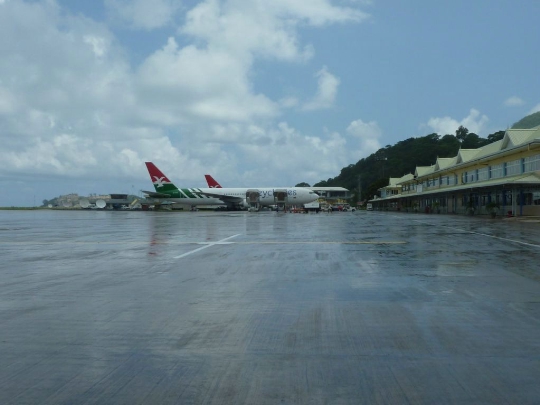 Best vacation at the time of honeymoon, and fullno signs of a great civilization nearby - this "chips" of the Seychelles. On the archipelago in the Indian Ocean are getting fewer - vacation in paradise does not come cheap. And yet, in the Seychelles airport periodically flashed happy faces with Russian passports in their hands, the more that it is not necessary to put them on a holiday visa.
Direct flights from Moscow to the capital of the archipelagoNo, but at the Emirates via Dubai wings, the Air Franse via Paris or Etihad Airways with connections to Abu Dhabi is easy to get here just for some 14 hours, including the time of transplant.
Seychelles International Airport
Among the half dozen airports archipelago onlyone boasts of international status. The rest of the service domestic flights between the islands. Air Harbor De La Pointe Larue is located 11 km south-east from Victoria. The city where the airport is located, was built on the island of Mahe and is the administrative capital of the country. Get away from the passenger terminal in the center of Victoria, you can take a taxi or bus, arriving at the city's main railway station.
Infrastructure and directions
Two Seychelles airport terminal performdifferent tasks. Interior is responsible for the communication between the islands and every 15 minutes in peak season sends planes to Archipelago resorts. International is located within walking distance to the south, and sends and receives several flights of air carriers. The schedule appear Victoria Airport flights:
In Saint-Denis de la Reunion Taken Air Austral.
Condor flies to Frankfurt.
Behind Dubai area responsible Emirates.
In the capital of Ethiopia regular flights Ethiopian Airlines board.
Abu Dhabi Victoria joined wings Etihad Airways.
In Nairobi, just get on the aircraft Kenia Airways.
Sri Lanka and Seychelles bind SriLanakn Airlines.
It offers passengers waiting for his plane in the relegation zone - a few cafes and duty free shops. Details of the airport and flight information available on the site - www.scaa.sc.
Transfers between the islands
Among domestic airports Seychelles largestAir is considered to be the harbor of the island of Praslin. Serving more than 1,500 people every day, it helps to reach the airport on the island resorts to all fans of secluded beach holiday.
Flights from Mahe to Praslin perform board Air Seychelles, and the delivery of passengers to the chosen hotel or taxi transport is carried out most of the hotel.
The same principle works and other domestic airports of the archipelago, whose runways are designed for service only light aircraft.
Photo