The beaches of the Seychelles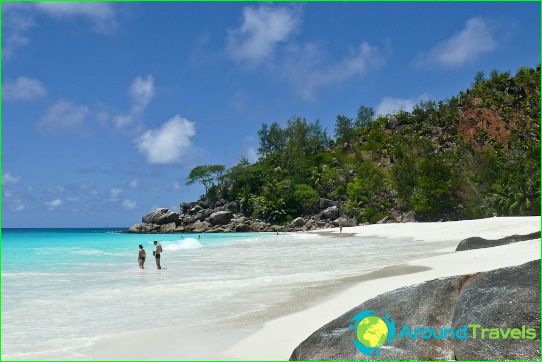 Most of the Seychelles and Amirante IslandsIndian Ocean, uninhabitable. Populated areas are known for cleanliness, amazing flora and fauna. Coastal waters of the Seychelles - the dream of fishermen and divers, they are found huge turtles, stingrays, tiger shark, blue marlin. During the year the water temperature drops below 24 degrees. The beaches of the Seychelles - a great place to organize a wedding ceremony. The country has all the municipal beaches, with free sunbeds.
The most famous beaches are on the island of Mahe. Of the 28 beaches of the island and has the best sandy beaches of the Seychelles:
Beau Vallon Beach - the most visited. The natural conditions of the beach suitable for snorkeling, water skiing, windsurfing. At the coast there are no dangerous underwater rocks and reefs.
The most beautiful beach on the island is considered to beAnse Intendanse. From above it looks like a curved 700-meter sandy arc. The sea off the coast of the beach is very hectic, and in some periods of the wave height can reach 4 meters. What can not bring here (November to April) gambling surfers. But to the rest nothing to prevent travelers to stroll along the beach and listen to the noise of the oncoming waves.
The beaches in the bay of Anse Souillac is very thinly populated, fine sand and lures lie with a book, while the head of the family is to teach children to swim.
Karan beach sheltered from the sun trees wall, but uneven coastal bottom, suddenly ending depth may be dangerous for children.
The longest longest Royal BeachAnse Royale reefs well protected from the sea waves. Because it's a great place for swimming and diving, as well as the beach of Anse Soleil. At the bottom you can see a great variety of fish and other underwater creatures. Extremely like Seychellois and visitors, including an abundance of cafes and restaurants.
On the beach of Anse Takamaka there is a huge boulder called boiler-mountain. Coastal bottom also abounds in large stones, which is interesting to dive and explore the bottom at their bases.
Apart from Mahe, there are excellent beaches on the islandPraslin. For example, the main beach of the island Cote d'Or, with a wide strip of shallow water near the shore. The best beach is considered to Praslin Anse Lazio with perfect sand and lazy waves. Not far from the airport was stretched long beach of Grand Anse. Eyewitnesses claim that during the southeast monsoon beach loses its appeal because of the imposition of the course on the shore of sea grass.
Photos of Seychelles beaches