The best resorts in the Seychelles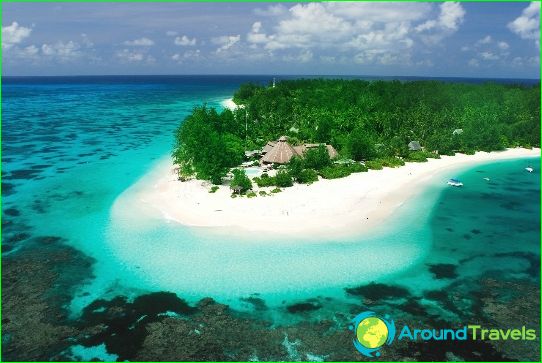 Seychelles is indeed trueparadise. And is located is a miracle in the heart of the Indian Ocean. Of the 115 tropical islands are inhabited only 30. The best resorts in the Seychelles - a lot of secluded beaches, covered with white sand.
La Digue
It is small and is probably the most beautifulisland of the Seychelles archipelago. Its slow rhythm of life, spectacular cliffs and beaches covered with sand amazing pink color, has always attracted lovers of secluded exotic. On La Digue is practically no car traffic, as visitors and locals prefer to travel by bicycle.
The most beautiful beach of the island is called the BayLAS d'Argent. And if you want to enjoy the spectacular sunsets and sunrises. Rocky coast of arrays in the rays of the sun turn pink awakening, and in the evening, when it goes down, the rocks glow bright red.
No less beautiful and the beaches are located in the bays of Anse Coco, Grand Anse and Petit Anse. It is the local sand is painted in a wonderful shade of pink, which is so like the guests of the island.
If you like to observe the life of the fish, the best place for snorkeling nearby island - Ile de Coco.
La Ding always collects a lot of divers. This island - the most popular place of the Seychelles, where many different dive sets. Especially popular are the granite rocks of "Ave Maria" is a whole underwater maze, "Grand-Serre", where you can meet a large barracuda and, of course, "Coral Garden".
Mahe Island
Main place of Seychelles, which tend to get alltourists. A total of 68 Mahe beach areas. Each beach is equipped Rentals, where you can rent any equipment from the accessories for snorkelling and ending with skis for the boat trip if needed. Besides directly from the territory of the beaches you can go to sea tour.
The largest local beach Beau Vallon - the maingathering place of night clubbers. Feyrilend Beach is great for snorkelling and Anse-Forbans, and Anse Royale, surrounded by a coral reef, so the water is always calm bays.
Praslin
On Praslin grows totally unique coconut,outwardly no different from the human heart. And it is a miracle of nature can be seen only here. According to legend, it is the very "apple", which once Eve tempted Adam. Although the island is the second largest island of the archipelago, it is so small that you can get around it by spending just an hour.
The most popular on Praslin are beach areas of Côte d'Or and Anse Lazio. It is the latter, and is considered the best.
Photos resorts in the Seychelles