Victoria - the capital of the Seychelles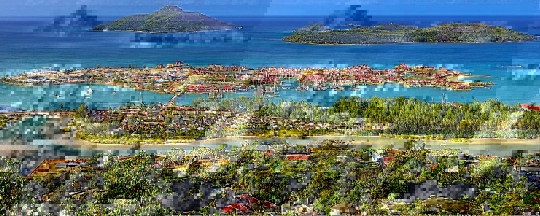 The capital of the Seychelles is located,naturally, on the island, and on the largest in the archipelago. That's right, because the name of the main city of the state appropriate - Victoria, translated from Latin means "victory".
Competitors
The first of these areas began to master French. There is a beautiful legend about fifteen brave colonists who landed in a tropical paradise, a settlement founded by them, was named Port Royal. Then they defeated the British and renamed the settlement at Port Victoria. The first part of the name of the capital points to the fundamental importance - a seaport, a transit point on the route from Africa to India. The second part - Victoria - the name given by the great Queen of England, in whose honor its loyal opened up new territory, called the city and mountains.
Almost like in paradise
Wilderness in the capital of the SeychellesIslands tourists feel at every step. Locals believe that a higher power is in their islands preserved piece of paradise gardens. Therefore, seeking to limit the growth of urban areas, building in the center of Victoria is prohibited.
Even more intimate acquaintance with the richexotic nature awaits visitors to the capital in a local botanical garden. His zoological department will surprise even seasoned travelers. Beautiful photos with giant turtles and stories about the life of these ancient inhabitants decorate the memories of holidays in the Seychelles.
Victoria Attractions
The architecture of the city was influenced by the former colonists, the French and the British. Among the most notable buildings, located in the heart of the city - Big Ben, or rather, its reduced copy.
The most famous street of Victoria is funnyname - The long pier. At one end is the famous clock tower (greetings from the British), on the other side - the old port, ready to open a lot of their secrets. There is a small museum, and which introduces the history of the city and its main exhibit - the so-called "stone of ownership." This memorial sign at the time the French established in 1756 as an acknowledgment that these lands were given the status of the French colonies.
The main entertainment await tourists on the beaches. Taking a walk through the beautiful Victoria, visitors can:
enjoy an exotic shopping on Market Street;
learn how to weave mats of palm leaves;
admire the architecture of the Catholic cathedral and his "colleagues" - the Anglican Cathedral of St. Paul.
Overall, the holiday in the Seychelles and in the main city - Victoria - can give a lot of pleasant days.
Photo