Traditional cuisine of the Seychelles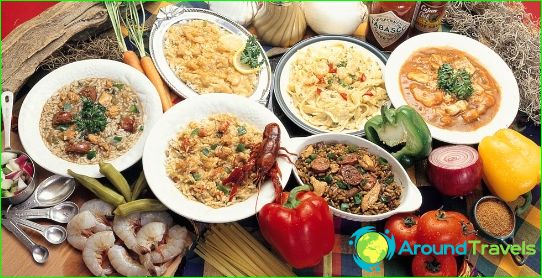 Power Seychelles characterized in thatlocal dishes quite sharp, so it should be taken into account when ordering (if you - do not like spicy, ask them to add you to spice the dish in moderation).
Meals in restaurants at the hotels is not cheap, so if your goal - to save money, eat in small restaurants that are on the beach or in the settlements.
Food in Seychelles
In the kitchen Seychelles strong influenceWe had Creole culinary traditions, so as the main ingredients it uses sea gifts and rice (the most popular dishes - fish with rice, Shatin from shark meat, tuna steaks, shrimp, seasoned with curry and sour sauce or fried in garlic butter).
Diet Seychellois up vegetables,fruit, fish, seafood (lobster, octopus, crabs, lobsters), rice, meat (beef, pork, chicken, meat bats), spices (ginger, anise, cumin, saffron, nutmeg).
Seychelles grows more than 15 kinds of bananas: the locals they are fried, stewed, added to salads and make a puree.
In the Seychelles should try swordfish fillet,baked in dough; chutney sharks; baked fish-bourgeois; ragout flying fox; Coconut fish curry; Chicken in coconut milk; octopus salad (it is cooked octopus, tomato, onion and lemon juice); Pula (rice-based dish, meat, fish and vegetables); small crabs, which are served with coconut sauce.
In a special delight in the Seychelles come vegetarians- Then they will be able to taste the fried eggplant with spices, soups from the stems and flowers of vegetables, mashed potatoes from the local pumpkin dish of bananas and breadfruit and other tasty dishes.
Where to eat in the Seychelles? At your service:
restaurants where you can order dishes such as Creole, as international dishes (here you will appreciate the menu with a huge selection of cuisines, as well as the availability of a variety of cocktails);
cafes and restaurants that specialize in French cuisine dishes with the addition of local herbs, spices and seasonings.
Drinks in the Seychelles
Popular drinks residents of the Seychelles -and black tea with vanilla, coffee, beer, pot (fermented sugar cane juice), feces (fermented coconut juice), tincture on the basis of lemon mint, sugar cane, coconut juice.
Buy alcoholic beveragesSeychelles harder than local (local sold in more than 1000, and imported in no more than 100 points of sale). It is much easier to buy alcoholic beverages at the hotel, but their costs will be in 2 times more expensive than the cost of the drinks purchased in the store.
Gastronomic tour in the Seychelles
For fans of gastronomic tourism, toSeychelles organized tour includes visits to restaurants Creole cuisine. For example, you can visit a small family restaurant "Le Reduit" (it is on the shore of the bay Entendans), which offers a feast on a variety of seafood dishes (for sure you will like Seychelles crab in coconut milk).
Seychelles - is not only white beaches, emerald expanse of the Indian Ocean, the amazing nature but also tasty and creative cuisine.
Photos national dishes Seychelles