Rent a car in Seychelles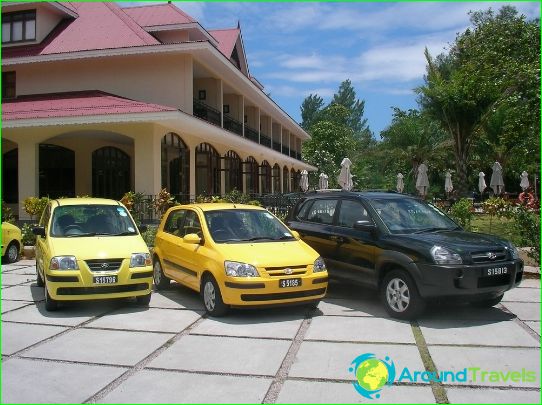 Spend an unforgettable time may be in the Seychelles,these islands are popular among those who love the romance and beach holidays. Getting to the islands can be a change in European cities, direct flights to this small country of Russia is not done. To visit countries do not require a visa if the stay does not exceed 30 days.
Features car rental
Cheap rent a car in the Seychelles allows to comfortably move between cities. To do this:
be of the age of 22 years;
have international or national driver's license;
have a driving experience of 3 years.
Virtually every hotel, even a little, thereCar rental. If you come to rest for a few days, do not rack their brains in search of cheapness. Prices for rental car car economy class (subcompact) in all the hotels about the same. The difference, according to the area, will be only $ 5-10 / day. By the way, the auction is pertinent.
The islands are many private car hire points. All machines are right-hand drive, you can take the car with an automatic transmission, there is a car with a manual transmission.
It is also possible to rent a car and the airport. This is quite convenient: you can not spend money on taxi services and not waste time searching the vehicle in the resort area. By the way, the rental price will be $ 30-50, depending on the class of car. If you plan to actively move around the resort, it is inexpensive when compared to the price with the taxi.
Features and benefits of rest
Not white sandy beaches of the Seychelles can be fullyto devote himself to a beach holiday. The hot sun, clean sea water will not leave anyone indifferent. Along the coast of the Seychelles you can take to hire the necessary equipment to dive under the water. In this country you can have a tasty lunch of stew bat or rice with fish. Arrange a romantic trip or a declaration of love by ordering a service flight by helicopter over the smooth surface of the Indian Ocean.
Fishing enthusiasts will certainly appreciate the opportunity tofishing for tuna, do not sail far from shore. Safety above all else in the Seychelles: Aborigines refer to the tourists favorably, all neighborhoods are closely monitored by the police. Take a dip in the Indian Ocean can be in private and "wild" beaches. When choosing a place for bathing is necessary to pay attention to safety: there is a risk to face the poisonous fish or sea urchins, if swim in unexplored place.
During the year the temperature Seychellesvirtually unchanged, so you can come here to relax at any time. From November to March is a warm season with occasional rain and sun. Umbrellas and deck chairs on the private and public beaches are free. As a rule, each beach offers soft drinks and dishes of national cuisine with a predominance of vegetables and fish.
Photo