Seychelles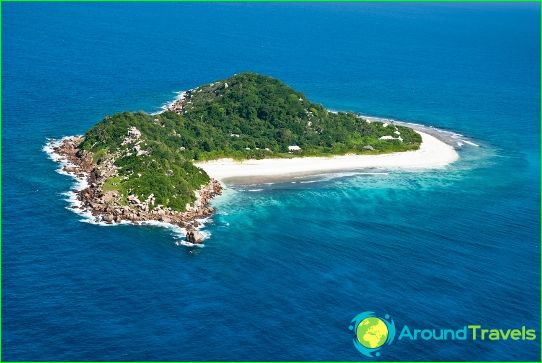 Seychelles Islands are located in the west of the IndianOcean, near Madagascar. They form an exotic island country in East Africa, remote from the mainland to 1,600 km. The structure of the Republic of Seychelles includes 115 islands. The total area of ​​the state is 405 kms. sq. The population is not on all the islands.
Lovely covered Seychellestropical greenery and sandy beaches. The largest islands are considered to Praslin, Silhouette, Mahé, La Digue. They have granite structure. Small islands are coral formations. On the coasts of large granite islands focuses the economic life of the country.
History of Seychelles
The first island of the Seychelles saw explorer Vascoda Gama, but they do not have attracted, and he continued his journey. After that, the islands were British, but also did not notice their uniqueness. As a result, the Seychelles settled the French who have transformed the tropical areas of land to plantations. They grew there cloves, cinnamon and vanilla. The islands were named after the Moro de Seshellya, Minister of Finance of France.
geography Features
The Republic of Seychelles has an area ofabout 455 square meters. km. The largest island is Mahe area of ​​142 square meters. km. The capital of the state - Victoria, located on this island. The central area of ​​the granite islands covered with forests, which grow pandanus palms and ferns. Coastal areas have cultural spaces, among which is dominated by coconut palm.
The coral islands are flat andsmall atolls. Their total area is more than 211 km. sq. Above the level of the ocean, they rise up to 8 m. The atolls are subject to drought, since they are composed of limestone, which to retain moisture. On the atolls grow only coconuts. On the islands of the Seychelles have a palm that grows only there. The fruit of this palm has a weight of about 20 kg and is the champion in the world of plants.
Undersea world
The diverse fauna and flora - is a virtueSeychelles. The main area for diving is the Shark Beach, which is remote from Mahe to 8 km. Visibility under water there is just excellent. In the depths of the sea, you can see the fish, cow, lionfish, starfish, Napoleon fish, stingray and other inhabitants. Near the island of Des Roches under water reaches the wall formed by corals. Seychelles popular fishing. The best time for this - the period from mid-autumn to April. Near the islands you can catch swordfish, tuna or tiger shark.
Photos of Seychelles