Holidays in Seychelles in April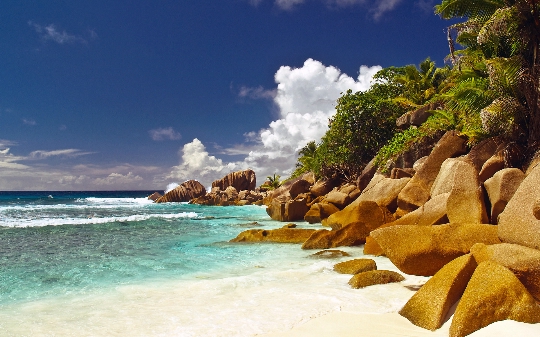 In April, the Seychelles is setcalm weather, due to the change of wind direction from the wet to the dry. Tourists can expect to calm and dry weather, sunny days. The air temperature during the day is + 30 ... 31C, night + 25C.
One month may fall only 183 millimeters of precipitation. Humidity is 74%, so it can be the most comfortable conditions for rest.
The average length of the solar day is eight and a half hours. In April, you can fully enjoy a dip in the Seychelles, because the water temperature is + 29C.
Festivals in the Seychelles in April
You want to spend your holiday rich in the Seychelles in April? This feature you will have!
Creole Arts Festival allowsget acquainted with art, graphics, painting, folk dances, unusual music. Tourists get a chance to visit the various exhibitions and performances, attend seminars, which are held in different cities. Annually, there are a variety of cultural events, to better understand the traditions and culture of the inhabitants of the Seychelles. At the festival come to different musical groups, familiarization with the work of which will be a real pleasure. Allow yourself to enjoy a stay in the Seychelles!
In late April, held in VictoriaInternational Carnival, which has existed for a long time and is based on the features of the history of the state. Tourists have the opportunity to see the extraordinary carnivals and imbued with their spirit. Seychelles allow each country participating in the carnival, to show their own characteristics in traditional costumes, bring stories in the dances.
In early April, on Mahé, which is considered the mainSeychelles, starts the turn of cultural markets. Travellers are able to enjoy shopping and enjoy the local culture. Tourists can enjoy fresh vegetables and fruits, traditional delicacies and drinks. you can buy paintings by local artists and unusual souvenirs if desired. Each market is accompanied by performances of folk and dance groups.
Holidays in Seychelles in April can be a unique experience for every tourist who dreams to know for yourself the exotic!
Photos vacation in Seychelles