Holidays in Seychelles in November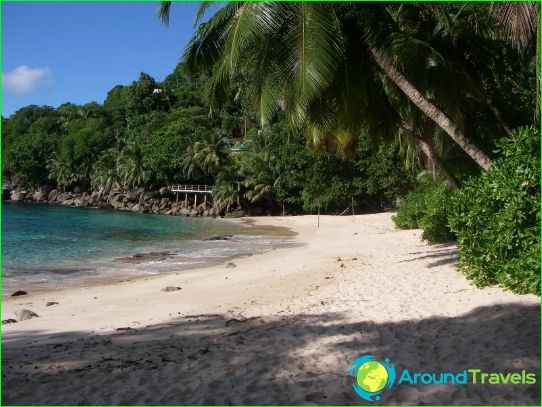 In November, the Seychelles is coming wet season. However, the precipitation may not prevent the release, because they are short, torrential rains, which usually go into the dark. During November may fall about 175 mm of rainfall. Approximately half of the month falls on dry days. Despite the fact that the rain will not interfere with rest, should be prepared to high humidity, which reaches 80%.
The average temperature in November is+ 27C. In the capital city of Victoria, the temperature can reach + 30C, and the sea warms up to + 28C. On the island of Mahe temperature is similar to the capital, but the water is cooler, + 24C, on the frigate + 27C, on La Digue + 28C, on Praslin - air + 27C and water + 26C, at the silhouette + 24C (air) + 23C (water). Most of the tourists were satisfied with the weather in the Seychelles.
Benefits of rest in the Seychelles
Ideal beaches. Beaches different snow-white coral sand and perfectly clean water, so that they are recognized as one of the most comfortable, beautiful in the world. It is the longest beach of Beau Vallon Mahe Island. La Digue Island is famous for coral sand origin, which is characterized by pinkish tinge.
Leisure. Seychelles allow you to enjoy diving and see the fish, razor, a hammerhead shark, butterfly fish, green morays and blue marlin. While fishing, you can obtain rare trophies. Tourists can also enjoy sailing, snorkeling, windsurfing.
A unique Creole culture. Seychelles live Creoles, who were able to preserve their culture for a long time. At the same time, the local population has absorbed the European, African, Chinese and Indian traditions. Just imagine how unusual is the local culture, which finds its expression in music and dance, cuisine.
Excursions. When planning a vacation in the Seychelles in November, consider your excursion program, because you will have an ideal opportunity to explore the local attractions. You can choose a tour of the St. Anne Marine National Park, which consists of six islands. The tour involves traveling on a boat with a transparent bottom, the trip to the island of Moyen attracting pirate graves and historic ruins.
Visa-free entry. For residents of Russia and CIS entry into Seychelles is a visa-free, but travel period shall not exceed thirty days. The airport is required to present a passport, which must be valid for six months after returning home, return air ticket, travel voucher or proof of reservation in the hotel.
Take advantage of a unique opportunity to visit the Seychelles, are sure to win your heart!
Photos vacation in Seychelles