Holidays in Seychelles in September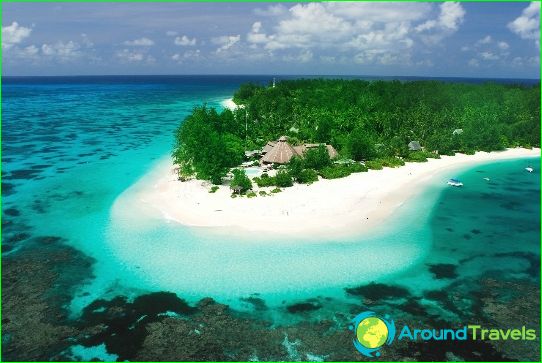 September is considered one of the best months to travel to the Seychelles.
The weather in the Seychelles in September
Air is able to warm up to 29 degrees,It is one of the indices of comfort for people. The heat is caused by the influence of the south-east trade winds, which can blow stronger. Particular influence of the trade winds experiencing the southeast coast of the Seychelles. Despite this, their season coming to an end and the tourists have more opportunities to enjoy your holiday.
Monsoon rains gradually approachingSeychelles, but did not overshadow the rainfall weather. The average monthly accounts 145 millimeters of precipitation. Most often it rains in the early morning or late evening.
Diving in the Seychelles in September
In September it begins the best time for diving. Rate Coral beauty of the world can be in April - May, September - October, and therefore the first month of autumn is welcome. The season for diving in the granite and coral islands is limited due to the negative impact of summer and winter monsoon.
Perhaps you are willing to try their capabilities? In this case, you should go to the island of Des Roches is located at a distance of 193 kilometers from Victoria, is the capital of the Seychelles. Flight to Des Roches only takes one hour. Diving possible in the island of the lagoon, but if you want - it is, after all coral wall stretches for several thousand meters of depth in the Indian Ocean. Near Des Roches are numerous underwater caves and tunnels.
Holidays and festivals
From the fifth to the seventh of September PrasleneCulinary Festival is held, the company is engaged in the Ministry of Culture and Tourism. Anyone can try Creole cuisine and appreciate the delicacies in the preparation of which is used nut coco-de-mer. Customers Culinary Festival can not only enjoy the unusual dishes, but also beautiful dancing incendiary music.
Photos vacation in Seychelles