Ljubljana - capital of Slovenia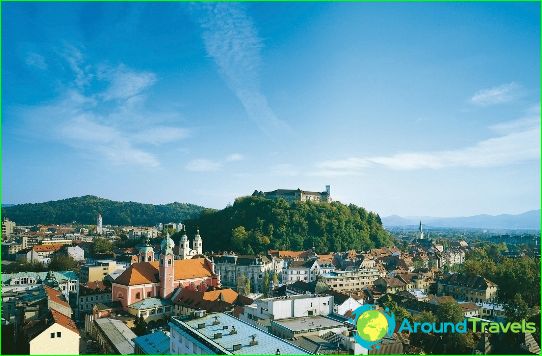 The capital of Slovenia is located on the banks of the riverLjubljanica, which gave the city the name. Among our compatriots very popular city does not use, due to lack of awareness. But Ljubljana - amazingly beautiful European capital, which is sometimes called "Little Prague".
Historical Center
The dimensions of the city are relatively small, and local sights can be visited in one day. The city can be divided into the Old and New Town.
In the old part of Ljubljana, located on the rightside of the Ljubljanica, deserves special attention the ancient structure of the Ljubljana Castle. The castle is located on top of a hill, and from here magnificent views of the city. Not far from it you can see the remains of good facilities belonging to the Celts, the ancient Illyrians and Romans.
triple bridge
This bridge is considered to be the most beautiful architecturallandmark of the capital. In fact, a group of bridges connecting the banks of the river. The building is the old bridge, dating back to 1842 year, and a pair of side, adjoined in 1931. This is an elegant trio and you can get to the Old Town.
As construction material for the corebridge used for the traditional time of its construction stone, clay and limestone. Modern bridges - concrete. Now construction is closed to vehicular traffic and is part of the pedestrian zone of the capital.
Quay Breg
Arriving in the capital, you should definitely take a strollon the city's waterfront. In the Middle Ages the city marina was posted here, but in the middle of the 19th century with the development of the railway, it was abolished. During the walk certainly inspect Tsoysov palace that belonged to the Baron Sigismund. Ends at New Quay area, which is another attraction - the palace Lontvozh.
Dragon bridge
The symbol of Ljubljana - dragons. They look at you from almost anywhere, and buy a cute little animal, you can at any souvenir shop. The most famous dragons Ljubljana "settled" on the bridge located on Vodnik Square. Previously, it was very ordinary bridge with not very appetizing name - butcher. In the late 19th century, the strongest earthquake it destroyed, and the city authorities to urgently had to restore communication between the shores. normal, reinforced concrete was used instead of stone, and to give a new construction of sophistication at its ends were installed twin bronze dragons who came to taste and residents and guests of the capital.
Ljubljana (Slovenia)
Photo