Water parks in Ljubljana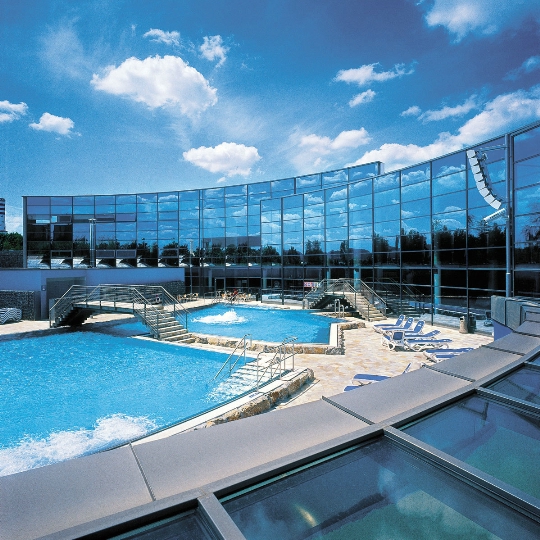 You are going to spend a fun and useful holiday inLjubljana together with young travelers? Be sure to include in the program of holiday visit to a local water park (it is located on the territory of TC "BTC City").
Water Park in Ljubljana
Water park "Atlantis" pleases visitors:
16 pools, 6 of them - large, 4 - children 6 - Special Purpose (wave, outdoor, indoor thermal, adventure pool, spa, cascading, Jacuzzi);
two 135-foot water slides with special effects, 15-meter outdoor waterslide;
lazy river (visitors waiting for "boat trip" by underground caves);
thermal zone "Thermal Temple" (here you can relax on the terrace or swim in the pool filled with salt water);
The world of saunas (in the presence of 15 saunas, it is recommended to peel, using for this purpose sea salt or honey);
children's area (there is a children's pool with cannons, geysers and sprinklers, toboggan slide and "Water Dragon");
restaurants and self-service points, where you can buy ice cream when you visit a water adventure area (thermal same area invites you to enjoy a vitamin cocktail).
Tickets (4 hours) - 11.5 euros (aday - 15 euros), 9 euros / children, seniors and students (all day - 12.5 euros). If desired, you can get a family ticket (2 + 1) - it costs 42 Euros / 4 hours or 49 euros / day. Combined tickets (4 hours): Thermal zone "Thermal Temple" + waterpark - 13 euro / adult (all day - 17evro), 12 euro / beneficiaries (all day - 15 euros); Thermal water park area + + sauna world - 24 euros (all day - 29 euros).
Water sports in Ljubljana
You want to have the opportunity every day to splash inpool? Book a room at the hotel, which is located on the territory of a swimming pool - in the "Birokrat Hotel", "Vander Urbani Resort" or "Plaza Hotel Ljubljana".
You can relax in the wellness-center, if desired"Sense Wellness Club" - it will delight guests swimming pool, sauna, jacuzzi, beauty and massage (provided services to more than 10 types of massage) facilities.
Due to the fact that the capital of Slovenialocated on the Ljubljanica river in Ljubljana guests will be able to enjoy fishing (they will be able to catch pike, walleye, perch, trout and other fish). It is worth noting that on the river open for fishing base - here you can fish and cook the catch caught.
And if you want you can go down the river on a boat(Pleasure craft sent from the Bridge butchers) - your route will pass by old houses, and accompanied by the story guide (you will be able to "penetrate" the mystery of the Slovenian capital city).
Photo