Beaches Slovenia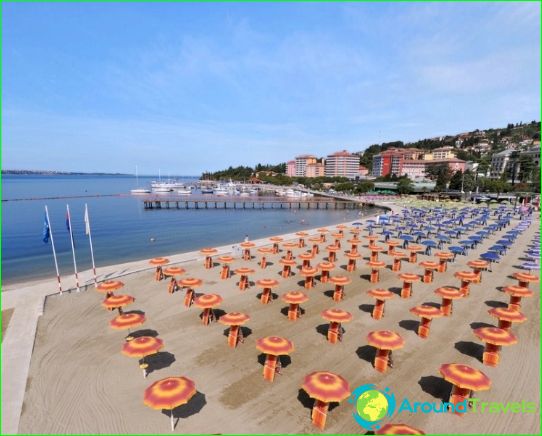 The beach in Portoroz
A small European country Slovenia drawsmany tourists for its healing mineral springs, thermal spas and unique natural resources, first of all, scenic mountains, tranquil lakes and the famous caves. But beyond that, it is still possible for a beach holiday on the Adriatic coast.
coastline length of about forty-sixkilometers, it has several resort towns, which are interconnected highways. Beach season in Slovenia lasts from July to September. The climate is very comfortable for relaxation, because there is no tropical debilitating heat, and the temperature of the seawater is quite suitable for swimming. In the resort cities of infrastructure is well developed in Slovenia that provides a comfortable stay for tourists. In many restaurants, especially for children designed menu. In addition, almost everywhere available babysitting services that allow parents to enjoy a sea holiday.
Slovenia mostly rocky beaches. For added convenience, bathing in many places the embankment is covered with concrete slabs and the descent into the sea carried on specially equipped platforms or ladders. Furthermore, in Portoroz, for example, there is a single bulk artificial beach in the country. The sea water is mostly clear and transparent. The beaches are mostly municipalities, but they are equipped with everything necessary for a comfortable stay, including sun beds with umbrella, toilets, changing rooms and showers. In addition, many hotels have their own beaches, which in most cases are covered with concrete slabs. Almost every beach belonging to the hotel, especially for children equipped with a bulk section.
The best sandy beaches in Slovenia actuallylocated only in the most lively resorts of the country - Portoroz. It is well developed entertainment industry, there is round the clock clubs, night bars, casinos and discos. In addition, the city has a yacht club and a great water park. Holidays are advantageously chosen yachting enthusiasts and active nightlife. For a more relaxing stay fit resorts such as Piran and Izola. They have not been noisy youth party, so they are better suited for a family holiday. The sea water here is very clean, the beaches are covered with not too large pebbles and everywhere there are children's playgrounds. In addition, the underwater world of Isola is very colorful and diverse, which creates great opportunities for diving.
Slovenia Photos beaches
The beach in Portoroz

Beach Isola

Beach in Piran