The best resorts in Slovenia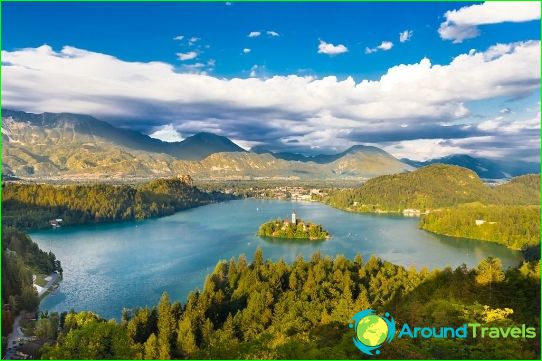 Slovenia - miniature state equal to allonly half of the entire area of ​​the Moscow region. But this country is absolutely amazing region, which is compared with the "green treasure" old Europe. It is not surprising, because most of Slovenia is covered with dense forests.
The best resorts in Slovenia - a city with a long history, ancient knight's castles, crystal clear waters of the Adriatic Sea and, of course, hot springs.
Ljubljana
The city is located in the picturesque village in the foothills of the Julian Alps, on the banks of the Ljubljanica river. The capital of Slovenia is also called "Little Prague" for an incredibly beautiful architecture.
Ljubljana is ideal for leisurely walkingwalks. In the city there are places where machines no entry at all. This small town, you can get around in just one day, but, nevertheless, will not be bored here.
The old part of the city, located on the rightbank of the Ljubljanica, keeps amazing architectural treasure - Ljubljana Castle. It is an old, well-preserved castle stands on a high hill. And here the whole city can be seen at a glance.
Alpine lake
Lovers of romantic holiday at a vacation spot choice should pay attention to Lake Bled and Bohinj.
Lake Bled is located in the Julian Alps and hasown unique microclimate. There are no sharp fluctuations in temperature, no strong winds, happy in the sun with its light almost the whole year. On the shore of Lake located warm thermal springs, which attract many tourists. During warmer months, on the lake excellent conditions for rafting, hang-gliding. It provides an excellent opportunity to practice cycling. A winter - this is skiing and snowboarding.
The second lake - Bohinj is surrounded by mountains on threesides, because almost completely protected from the winds. There are almost no entertainment, so Bohinj will be interesting to fans of secluded relaxation and extreme, wishing to get their dose of adrenaline, backpacking or making paragliding.
Maribor
This is the second in size city of Slovenia. And it makes it a particularly attractive neighborhood with one of the largest ski resorts in Slovenia - Maribor Pohorje. It is equally comfortable feel and amateurs, and professionals. It is on the slopes of Maribor Pohorje runs one of the stages of the World Cup, where the competing athletes, skiers. Well-developed infrastructure of the resort gives you the opportunity to test their strength luger and snowboarders.
Thermal springs help in Mariborcomplex treatment of many diseases. spa resorts use only the latest equipment and methods of treatment, and provide guests with all the conditions for comfortable pastime.
Photos of Slovenia resorts