Coast Slovenia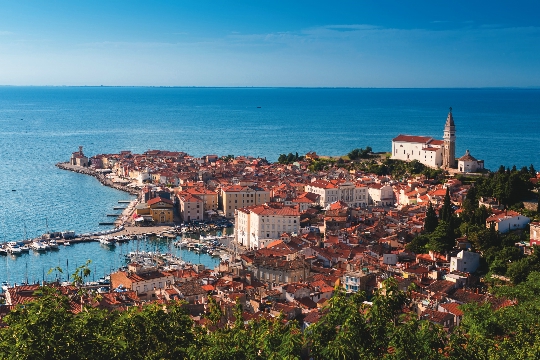 Coast Slovenia, though stretched only 46 km, but the tourists here and find wonderful beaches and mineral springs and curative mud, and old salt works, and the medieval city streets.
Slovenia resorts on the coast (the benefits of rest)
Slovenian spas are aimed at family and holidaychildren (despite the fact that many of the beaches are rocky, here brought sand for children's amusement): Most hotels offer a small leisure frolic on the playground, while their parents - to resort to babysitting services, and serves for the child from the special children's menu . But if you want you can find resorts (Portorož) with the clock running casinos and other nightlife.
Another feature of the holiday resorts on the Slovenian coast - reasonable prices compared to Western Europe.
Cities and resorts on the coast of Slovenia
Isola: It is a great place not only for sailors and windsurfers, but also for a family holiday: there is a city beach with rides and entertainment for the kids. But if you do not want to stay in the search space (here directs a large number of people), then you can go to the beach at the foot of the hill Belvedere or the beach Simonov Gulf. In addition, Izola worth seeing castles and Mantsoli Besengi del Hives.
Portoroz: the resort is worth visiting the water park "Laguna Bernardin" (in zone A will be waiting for a relaxing holiday with swimming pools, including massage waterfalls, and in zone B - active pastime: there is a water slide, diving board into the water, geysers , "wild river"), a complex "sauna park" (7 types of saunas, ice cave, a waterfall massage, herbal sauna, tepidarium), the spa-complex "Terme & Wellness Palace" (a thalasso and beauty center, resort and recreation , medical physiotherapy and ayurvedic centers), a well-equipped sand beach Portoroz bulk (umbrellas and deck chairs are provided here free use).
Koper: this city offers to enjoy Pretoria palace, palaces Totti and Armerigonya, visit the local zoo (here you can watch the different animals), and the water park "Zusterna" (an indoor and outdoor swimming pool, water attractions, a restaurant with Mediterranean cuisine, studio cardio-fitness, sports and recreation center, the Roman-Irish baths, swimming pools with hydro massage), climbing on the cliffs, have fun at the Seaside summer festival, stay at the beach (to get down to it, you should use the stone staircase).
On the coast of Slovenia, you will have to wait for the bay and the small harbor, sand, concrete and stone beaches, parks, vineyards and olive orchards.
Photo