Traditional cuisine of Slovenia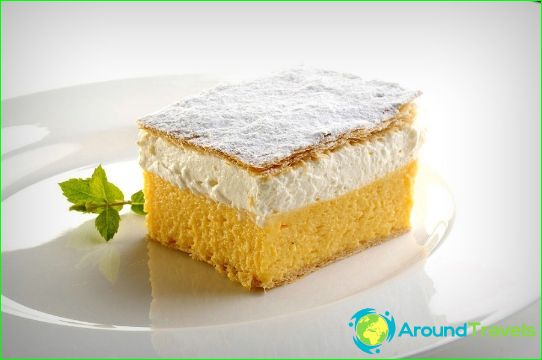 Food in Slovenia is characterized by the fact thatlocal products are famous for high quality and environmental friendliness. As for the cost of food, the local establishments, you will spend less money than in neighboring countries.
Food in Slovenia
On Slovenian cuisine was influenced by the Slavic,German and Austrian culinary tradition. For example, Slovene cuisine has borrowed from the Austrian dishes such as scrambled eggs, cakes and strudels, and from the German - grilled sausages and schnitzels.
Diet Slovenes consists of vegetables, meat, seafood (mussels, shrimp, crab), fish, legumes, dairy products, soups with chicken or beef broth.
In Slovenia, it is worth trying Slovenian pilau (ricewith seafood); meat pies (pljeskavica); Local burger (okrepcevalnica); soup with pork and vegetables with vinegar ( "sour Juha"); ear ( "ribibrodet"); dumplings with various fillings (struklji); lean ham (kraskiprsut); potato dumplings (zlikrofi); bean soup with potatoes, sauerkraut, ribs, bacon and garlic (jota); corn porridge (zganci); a dish of meat and potatoes (krompir).
A sweet tooth is to eat sweetcasserole with apples (strudel), Prekmurje gibanica (sweet cottage cheese, raisins, poppy seeds and apples), hazel sticks, donuts, pancakes with peanut paste and whipped cream, dried figs covered with chocolate.
In Slovenia, you can eat:
in cafes and restaurants in which menu you can find the Slovenian and other dishes;
in pizzerias and sidewalk cafes;
in institutions with the local junk food and fast food restaurants (McDonalds).
If you relax in the countryside, theYou can eat in gostisce and gostilna (rural hotel) - here you will be served an inexpensive standard meal consisting of three courses (soup / salad, entree, dessert).
Drinks in Slovenia
Slovenes are popular drinks coffee, tea from the hips or other herbs, "Viljamovka" (pear moonshine), wine, beer, brandy, liqueurs of pears, apples, cherries, blueberries and honey.
Lovers of beer worth a try beer Lasko and Union, and wine lovers - "Chardonnay Izbor", "Shipon", "Teran", "Refoshk", "Ptuyskoe urban wine".
You may want to take a ride on the threewine regions: in the Podravje you can enjoy high-quality white wines and sweet wines from grapes with noble rot, in Posavje - "ice wine" (sweet white wine), and in Primorye - various red and white wines.
Gastronomic tour in Slovenia
Going on a wine-gastronomic tour inSlovenia, you can taste the best local wines and dishes. On this tour you will visit the city tour of Ljubljana, dine in the restaurant, which is located in Ljubljana Castle, visit the winery Cotarbio-dynamicwinery.
Ancient castles, Slovenian caves, mountains and rivers, hospitals and famous Slovenian ski resorts, colorful cuisine - all this attracts tourists coming to vacation in Slovenia.
Photos of Slovenia National dishes