Slovenian Railways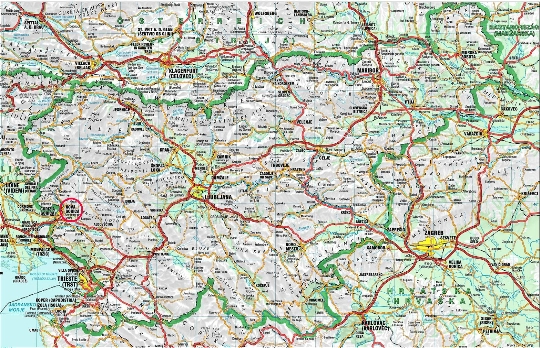 Slovenian Railways have goodstate. Transportation of passengers takes place by rail and road transport. All roads converge in the central city of the country - Ljubljana. This is the largest transport unit of Slovenia. Regular communication is maintained between Ljubljana and other settlements. The area is completely covered by the state railway lines. A stable economy contributes to the development of the transport system.
What distinguishes the railway system
Slovenia is the territory of the former Yugoslavia. Status trains here corresponds to Western European levels. Road transport is rail competition. Railways and highways form a dense network, associated with the transport systems in neighboring states. Slovenia supports the communication with Italy, Austria, Croatia and Hungary.
Slovenia has used two mainhighway, perpendicular to each other, as well as a network of secondary roads. The most affordable vehicle is considered to be a bus. Bus service is cheap and ensures a comfortable journey. In Slovenia, there is a regular bus service, but there is no air transport. Car tracks are often overloaded, so the train every day become more comfortable. In the big cities the trains. Information about the movement of trains are available at the website of railways www.slo-zeleznice.si Slovenia.
Passenger trains in Slovenia
From Ljubljana to Maribor runs best expresscountry InterCity Slovenia. How to get on the train costs about 12 euros (Grade 2) and 19 euros (Grade 1). Tickets are offered at the offices of the tour operators in the w / e ticket offices. Departure from the main train station, going in all directions. From here, not only long-distance, and international compositions. The fastest train, connecting Maribor and Koper, departs from this station. Trains constantly go to Graz, Salzburg, Zagreb and Rijeka. 6 stations for passengers and 9 stops located on the territory of Ljubljana. The most important marshalling yard is Ljubljana - Deposit.
Traveling to Slovenia, passengers canuse no limit travel by Euro Domino system. Buying a ticket is profitable for those passengers who are planning to use the train daily. In Slovenia, there are regions where access is difficult due to the nature of the relief. In such places, passengers get on comfortable buses.
Photo