Cuisine of Slovenia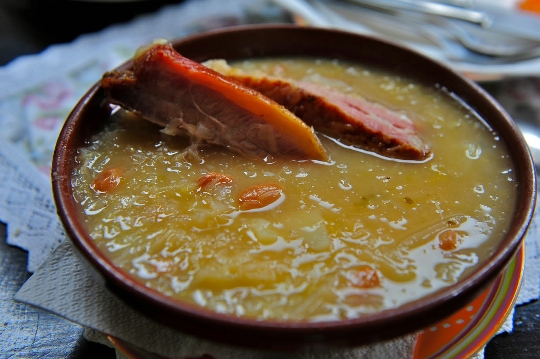 What is she, Slovenian cuisine? Its formation took place under the influence of Italian, Croatian, Hungarian, Austrian and German culinary schools.
National kitchen Slovenia
The highlight of the Slovenian table - first courses: "Gobovayuha" (soup with porcini mushrooms, served in a loaf of bread, which was previously released from crumb) and "sour Juha" (soup made with pork broth, vegetables and vinegar). Every meal is accompanied by the use of local cheese, and the second guests and residents of Slovenia often help themselves "krainske klobase" (sausage with horseradish), "Slovenian pilaf" (it is prepared with the addition of seafood), "Kuryi paprikash" (paprika chicken with the addition of red sauce "bechamel").
As for desserts, in Slovenia offerstry to roll with nuts ( "Potica"), pancakes, which acts as a supplement to the nut butter and whipped cream ( "palachinke"), hot apple pie and cheese ( "gibanica").
Top Slovenian cuisine:
"Chevapchichi" (soup with meat sausage);
"Tunka" (dish made from fried pork with melted butter);
"Zhgantsy" (boiled buckwheat balls, which are supplemented by sausages);
"Radshnichi" (barbecue in Slovenian);
"Ciompi" (a dish of baked potatoes and cottage cheese).
Where to try Slovenian cuisine?
Breakfasts, lunches and dinners in local establishmentsPower not subject to a clear timetable, so satisfy their hunger away countries will be able at any time and in any place. It is necessary to take into account that usually the price of meat dishes is indicated without the cost garnish.
In Ljubljana, no harm will be treated with the Sloveniandishes at "Gostilna Sestica" (first here you will be offered to taste Slovenian cheese - mold, savory, smoked, and still on the menu you will find a mix of meat and sausages, sauerkraut, potatoes, home-style with onions, gubanitsu Traditional home-made wine, and on Fridays you will have to wait for Slovenian evening with live folk music) in Maribor - in "Stajerc" (in this tavern-pub guests are treated to the Slovenian beer and excellent meals in the form of sausages, homemade ham, Slovenian goulash bograc), in Portoroz - in "Cantina di Pesce" (Visitors will find in the menu corporate Slovenian dish - Gamberettis salad and fried potatoes).
Cooking classes in Slovenia
Do you want to learn how to cook a dinner of 4 Sloveniandishes? Welcome to the restaurant "Gostilna Dela" (Ljubljana): there are open cooking classes "Cook Eat Slovenia" (classes are taught in English), which will be followed by tasting it with 4 types of local wine after cooking dinner.
In Slovenia, it makes sense to come to the Wine Fair(Ljubljana, June) or salts Festival (Piran, May), followed by the fair, a solemn procession, tasting of Slovenian delicacies (will be able to look into the Salt Museum).
Photo