Rent a Car in Slovenia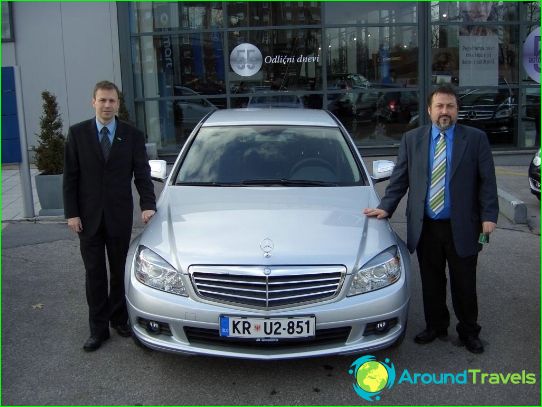 Not so easy to imagine a Russian citizenState that area will not even across the Moscow region, but only half of it. Just decorate it with chains of the Alps, add clear Adriatic Sea and less transparent lakes, equip and leave terms such as dense forests. Here is a portrait of Slovenia. The spa center of the country, at local resorts have long been chosen by a place practical Germans, Italians expansive, and the other peoples of Europe. And they spend on it is fun for much less money than at home.
However, Slovenia has enjoyed great success andRussian market of tourist services. The reasons for such great popularity are obvious: the Slovenian thermal spas at any time of the year have all that is necessary to deal with a variety of diseases: mineral water, large medical centers, equipped with modern facilities, where competent doctors work. Slovenia is known for its best practices for the treatment of a wide range of diseases. Here you can often meet a Russian-speaking staff, and it provides the convenience of the treatment process.
Features rental in Slovenia
The very wonderful atmosphere "European village" perfectlyIt promotes the dispersal of all disturbing thoughts. Is this not the reason to embark on a journey by car through Slovenia. Only it will have to stock up on some set of documents.
It needs to be a credit card of any bank. Sometimes it is possible to make and cash collateral, the value of which depends directly on the car class.
The driver must be at least 21 years;
He must have a driver's license of international standard;
Requirements to the driving experience - 1 year.
Return the rental car can be in any large city in the country.
On the road
In Slovenia, there are two main perpendiculareach other, motorway. First, "Slovenika" extends from the border with Austria and Hungary in the north-east to the border with Italy in the south-west. The second, "Illyricum", leads to the border with Austria in the northwest to the border with Croatia in the south-east. As to be expected, the traffic on both tracks is very intense. These highways - are paid. The network of secondary roads are so well developed that you can drive and free way. However, it may take much longer. But if you do not hurry, it is a great way to get acquainted with Slovenia. Incidentally, the signs on the roads here are quite common, therefore, to move a rented car will be easy.
Parking vehicles in the country's cities are marked blueline. Usually they are paid. Stamps are purchased either at service stations or in kiosks. They are attached to the windscreen. They were pre-specified parking time and day of the week. By the way, the parking lights in Slovenia, it is necessary to include at any time of the day.
On major highways Slovenian traffic police follow strict procedures.
Photo