Holidays in Slovenia in August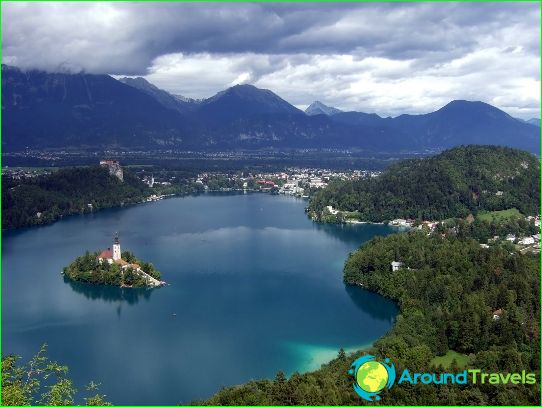 Last sunny dry summer month moresuitable for a beach holiday in this small country that has access to the Adriatic Sea. Luxury hotels and small apartments allow guests to stay in the country as comfortable and not too burdensome for the family budget.
Holidays in Slovenia in August, preferred by thosetourists who dream to combine sea and sun bath, recreation at the local spa centers and educational and entertaining journey through the country and history.
Weather in August
Adriatic coast of the Republic of SloveniaIt located in the zone of the soft warm subtropical climate. Therefore, the summer does not end in August, temperature records can be observed on some days, when the temperature overcomes the mark + 27 ° C. The second positive point - the almost complete absence of rainfall, the rains are rare and short-lived, tourists can not take too big wardrobe warm clothes.
Thermal sanatorium
Slovenia is developing quite successfully on the existingits hot springs area, helping people improve their health and filling up the state treasury. On the local thermal springs are all conditions: the modern medical equipment, mineral-rich water and useful substances, good professionals.
Since quite a large group of customersare tourists from the Russian-speaking countries, the staff is actively developing the closest language to reduce the risk of misunderstandings and promptly solve problems.
Alpine lake
Those who are tired of the sea and beach impressionsfun, can safely go to the Alps, where they are waiting for the Bled and Bohinj, the most beautiful mountain lakes. The first of them is fueled by the warm waters of the underground, so even in August the temperature is at + 22 ºC.
This resort is an ideal holiday destinationparents and children. Firstly, the swimming season continues, the hotel is surrounded by beautiful scenery, and secondly, very close there are interesting monuments, such as Bled Castle, the construction of which is attributed to the XI century. Now this architectural complex housed the historic halls of the museum and a restaurant serving local cuisine.
Lake Bohinj is located in the lands given over toNational Park, in the vicinity of the Republic of Slovenia character - Mount Triglav. Rest on the lake tourists combined with hiking, biking and fishing. In addition, it develops extreme sports such as rafting and paragliding.
Photos recreation in Slovenia