Traditions Slovenia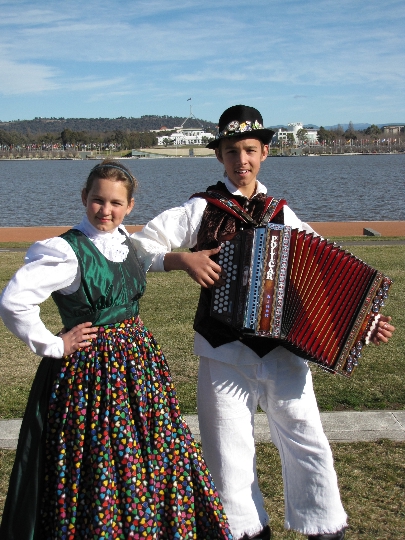 How to feel at home, Russiantravelers, being in this lovely European country with blue lakes and majestic mountains. All traditions of Slovenia are similar to Russian, but because this area for recreation is increasingly in demand for domestic tourists.
The single vortex
Like motley skirt girls Slovenian, Culturethis country can show off a variety of traditions, customs and rituals. There were mixed Austrian mountain tunes, Italian solar paints, the sweetness of the vine slopes with Croatian and German punctuality and thoroughness. Being at the crossroads of many European roads, culture and traditions of Slovenia absorbed the most valuable, surprising and significant than the neighbors could boast.
Get at least the culinary riches of Slovenia,whose menus are invariably present acute Hungarian goulash and risotto creamy Italian, Austrian blood sausage and cheese puff Croatian. And what are the Slovenian wine - tart and sweet, rich and resonant as its amazing nature, giving the vine so much love and care.
Mask, I know you!
Carnival procession on the eve of Lent- Another important tradition in Slovenia. In ancient pagan times, people cajoled gods all sorts of noisy gatherings and distracted them from their direct duties - to identify and punish the wicked. Since then, and has become a tradition and vibrant festivities able to impress not only the inhabitants of heaven, but also to foreign tourists.
Once in the carnival time in the town of Ptuj, we can cater to the parade with mummers dressed in scary masks. This fertility demons trying to get rid of the winter away.
Residents of towns and villages around Lake Bohinj waiting forghosts evening in masks, symbolizing the souls of deceased relatives. Scary, but good characters now living wish prosperity and happiness, not forgetting to grab sweet offerings.
Useful things
In the tradition of Slovenia - cleanliness andorder on the streets and in public places. Smoking is allowed only in designated areas, and the majority of catering areas declared free from tobacco smoke.
If you are invited to a cafe or restaurant, be prepared to pay for themselves in a row. Even participants romantic meeting here prefer to pay for their own dinner.
Portions of the local restaurants just huge! It is in the tradition of Slovenia - to feed a guest of the soul. That is why the visitors often order one dish for two and asked to bring another clean plate.
Photo