Where to rest in Slovenia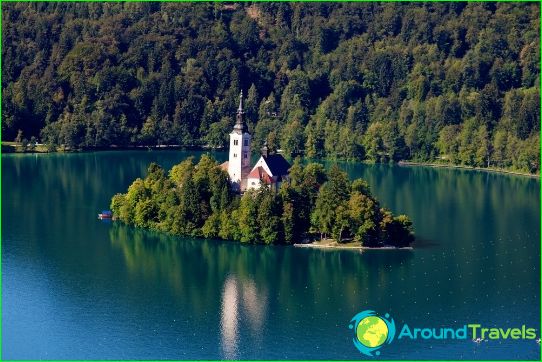 At first glance, unremarkable country can becomediscovery for anyone who wishes to learn more about it. The mountain ranges, clear rivers, stunning waterfalls and, of course, pebble beaches can be a wonderful place, even for a seasoned traveler. But where better to relax in Slovenia?
Activities for the whole family
When choosing a location for a holiday with small childrenthere is no better resort than Portoroz and Izola. Here everything just created for relaxation young travelers. Sandy beaches, hot springs and curative procedures - what else is needed for recuperation and recreation. Portoroz is considered to be too noisy, but also the most luxurious resort in Slovenia. The resort offers the opportunity to live in a three-star hotel or villa, but the "stardom" will not affect the services provided.
For families with children it is best to go to Bled,Strunjan or Rogaska Slatina. There are a lot of forests, there are treatments and plenty of entertainment. For Slovenia, the equipment is not typical beach especially for children, so when choosing a hotel or villa should be interested in this question. The locals are very friendly to young travelers and may even just give the kid a souvenir.
Stay for active people
Izola town romantic surprises and attractsancient architecture. This is not only a beautiful resort, but also a great place for sailing. Windrose and comfortable Bay has long been a place where to relax in Slovenia desperate sailors and windsurfers. It also often carry out various jazz festivals and dance.
Lake Bled is also a great place whereYou can have a great vacation. Here you can just walk around and enjoy the surrounding scenery or take a bike ride, play golf or enjoy a game of tennis.
Trigla National Park, located 28 kmfrom the lake, is another place that you should definitely visit. Here you can see a completely unique lake of glacial origin, Bohinj. For the active tourists paved routes for climbing.
Sightseeing holidays
The tours of Slovenia needbe sure to include a visit to the castle Velenskogo. This is a unique architectural gem, built in the 13th century. Postojna Cave - the next place, where there is sure to go. The underground waters are found blind fish and cave passages are so broad that even here you can ride on the wagon. The cave stretched out on a huge 23 km absolutely incredible adventures. 9 km away is Predyamsky castle when visiting which will tell you a beautiful legend about the knight-robber Erasmus Predyamskom.
For travel by car there are manyoptions for camping. It is possible to stay in designated areas and set up a tent. This trip can be quite memorable for the whole family.
Photos recreation in Slovenia