Rest in Adler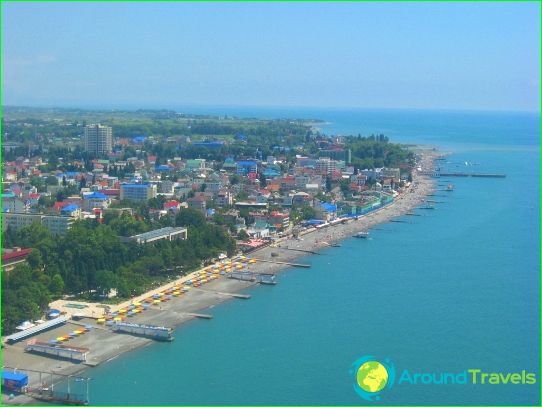 Rest in Adler - a lot of private accommodations, clean sea, excellent beaches, all kinds of entertainment.
The main types of recreation in Adler
Sightseeing: by going on a tour, you can see Adler lighthouse (11-meter tower, the feed skippers light and sound signals), to visit the Museum of the history of the Adler district, in the trout farm (excursionists offer to participate in the trout fishing and taste the dishes out of it), as well as Achigvarskom on the lake and Agura waterfalls.
Beach: Here you encounter small-pebble and gravel and sandy beaches. Beaches "South 1" and "South 2" (resort town) offer their guests to take advantage of rental of deck chairs, umbrellas, catamarans, scooters, have a snack in close to dining and cafes. If desired, you can head to the beach town of Adler - "Spark": it is famous for its gently sloping entrance to the sea, opportunities for recreational diving organization, flight on a parachute, walks on a boat, fishing, swimming in the open sea.
Family: parents with children to visit the water park "Amfibius" (has a variety of water attractions), dolphin "water area", the park "Southern Culture" (here you can see tropical and exotic plants, stroll through the bamboo grove and relax under the shade of the Himalayan cedar).
Treatment: medical treatment can be in the local health centers (motels, boarding houses, private medical centers), the main medical factors which are mineral water, silt mud (offer patients undergo various mud treatments), the fresh sea air. rate highly procedures can be passed, if desired, in particular, "Life without hypertension," "slim figure", "Healthy spine".
Active: everyone can go rafting on the river Mzymta, paragliding or parachuting, explore the cliffs and canyons around Adler, visit the horse walk to the lakes and waterfalls, go to jeeping tour to Ivanovo and Ivanovo cave waterfalls.
prices
The level of prices for tours to Adler depends on the season. Despite the fact that the duration of the tourist season - from May to October and December to March (skiing), the ideal time to travel to Adler is June-September. At this time there is an increase in the tour price, and the price peak in July and August - the average cost of tours increased by 1.5-2 times.
Best Buys vouchers can be bought in low season, to which only 2 months - November and April.
On a note!
Going on vacation in Adler, taking with him the right clothes and shoes, hat, sunscreen.
Before you take a taxi, it is worthbear in mind that the farther away from the station you catch it, the less you pay the fare. It is therefore advisable to book a taxi through a dispatcher service.
In memory of the town of Adler, you can bring wine, honey, tea, herbal teas, nuts.
Photos rest in Adler