Entertainment Adler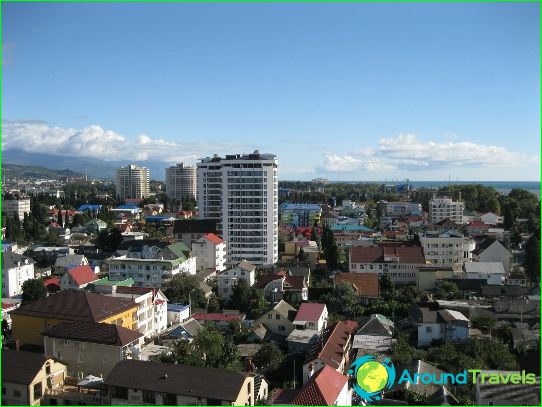 Entertainment Adler presented nightclubs, bars, concert halls and cinemas, as well as an active pastime (climbing, canyoning, paragliding).
Amusement parks in Adler
"Sochi Park" (Disney): here you can spend time in one of the thematic areas - in "eco-village", "The Enchanted Forest", "Edge of heroes" and others; a ride on a variety of attractions ( "Happy Pirate", "Drifter", "Dragon" slide "Quantum Leap"); have fun in the children's village with a maze; admire the laser and entertainment shows.
"Ice-Club": This ice-entertainment center consists of 2 parts - the tropical jungle and an ice arena. Here you can taste refreshing cocktails and soft drinks, visit the theme party, ice skating on the ice multicolored music.
What kind of entertainment in Adler?
Well, you can spend time in Oceanarium SochiDiscovery World - from the guide, you will learn about its underwater inhabitants (here they are about 4000). And offers a stroll through a transparent tunnel that passes under the water.
Do not think in your vacation without water activities? At your service - riding a "tablet", "banana", water bicycle, possibility to practice parasailing, rafting and diving. In addition, you can go on a boat trip on the boat or yacht.
Your favorite entertainment - rip ondancefloors? Look closely at the nightclub "Ecstasy", "Triangle" (specialization club - rock music), "FeRoom" (you will have to wait for an interesting show programs, karaoke, bowling and billiards).
You do not like to be bored? Take jeeping - can arrange a tour by jeep to the colorful places of the Adler district of Sochi, and during which you will see caves, mountains and magnificent scenery.
Activities for Children in Adler
Children should please visit Marine Park"Water area" - watching the performances of dolphins, walruses, sea lions, and the lions, your child will experience a real delight. And young visitors will be able to play here in "hvostbol" with the white whale.
Fun adventure can become a visiting amusement park "Seaside": the services of small and large visitors - Ferris wheel and other interesting attractions, including water.
Especially for children was established in Adlerentertaining center "Madagascar", so making a list of places required to visit, do not forget to indicate it is a place. Your child can then do research tunnels and mazes, walk through the suspension bridges on the chains, have fun at the outdoor and indoor roller coaster.
If your baby likes to visit the water parks,check out the whole family in the water park "Amfibius": your child can have fun at the children's rides - "Octopus" and "elephant"; and you - the rides for adults - "Taboga" and "Laguna".
On vacation in Adler, you can explore the medieval monuments, go on excursions to waterfalls and dolmens, see the plants collected from around the world in the Park "Southern culture".
Photo