Rest in Anapa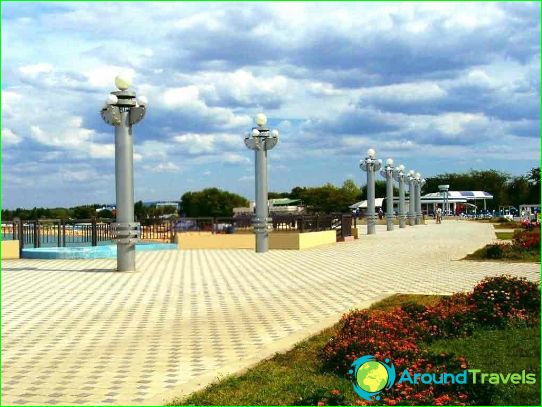 Rest in Anapa - a favorable climate, clean beaches, beautiful mountain and sea views, unique attractions.
The main types of recreation in Anapa
Sightseeing: educational programs allow you to see Russian Gate, Anapa Lighthouse, Anapa look into the museum, visit the Archaeological Reserve "Gorgippia" reserve "Big Utrish" mountain waterfalls in the valley of lotuses, the factory of sparkling wines.
Active: Anapa you will be able to visit an amusement park, ride on a catamaran, water skiing, jet skis, parasailing carry or hang-gliding, horse riding on forest trails, go kite and windsurfing. Everyone is welcome to visit one of the diving centers Anapa - experienced divers to dive there offered to various wrecks from a boat. As for the newcomers, the professional instructors will help them to carry out test dives.
Beach: Anapa has sandy, pebble and sand and pebble beaches. Particular attention should be paid to the central beach, equipped with no less European beaches. At your service - cafes, snack bars, awnings, sun beds, rescue office, games for children and playgrounds tennis and volleyball. It is required to go with the kids - they can spend hours splashing in the shallow sea with a sandy bottom.
Wellness: You can improve your health in the local sanatoriums, rehabilitation centers. The main therapeutic factors are the clean air, mineral water (4 types), mud Vityazevskogo Chemburskoe and estuaries. In addition, patients should be encouraged to go wine-therapy treatments and seaweed.
prices
The level of prices for tours to Anapa depends on the season. The ideal time to travel to Anapa is from June to early September (on tour prices markedly increased by about 40-80%). At the end of the velvet season not many tourists come to the resort. But despite the fact that at that time (end of September), the number of beachgoers reduced to Anapa rush wishing to improve their health.
In general, in the low season, prices for tours to Anapa is quite attractive, especially can feel the "beneficiaries" who come here as part of social programs.
On a note!
As in Anapa cool evenings and rainydays - is not uncommon, it is advisable to take along at least one warm thing. In addition, you will need comfortable shoes (for example, running shoes come in handy for trips to the mountains), mosquito repellent (they are needed for travelers who plan to attend the evening excursions), bathing suit, travel first aid kit and medicines for chronic diseases camera.
Travel around the city by bus or bettertaxi - urban transport route is made in such a way that it covers coastal areas and nearby spa resorts, which means that access to any beach, located even in remote areas of the city, is quite simple.
In memory of their holiday in Anapa you can buy products from Juniper, pottery, ornaments in the antique style, the wine.
Photos rest in Anapa