Independent travel to Anapa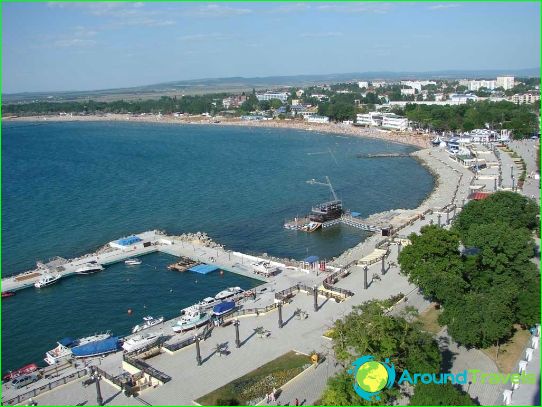 The famous Russian resort on the BlackSea is famous as a spa and climatic health resort, is optimally suited for a family beach holiday with children and the treatment of a large list of ailments and diseases.
When to go to Anapa?
The combination of sea and steppe climate of Anapaensures a very warm dry weather during the bathing season, a comfortable support sea breezes. Winter Anapa - a mild temperature, a rare snow, green lawns and many sunny days, allow to spend time in pleasant excursions and walks in the fresh air.
How to get to Anapa?
In Anapa has its own airport, which is accessible fromto the city center is easiest by taxi. Rail transport allows to reach directly to the resort only in the summer season. In winter, the station Tunnel is 30 km from the city - it is the final destination on the railway route from the capital of Russia to Novorossiysk. Next will have to transfer to a bus, which takes guests into the city center in less than an hour.
housing
For vacationers in Anapa there are two kinds of housing -the private sector and hotels. Rent a room or apartment with locals can be very easy - already at the station careful owners happy to welcome guests and offer their apartments at very nice prices. On Web sites devoted to rest in Anapa, you can choose and book your accommodation in advance. Hotels in Anapa there any guarantee wealth and comfort and service, very different degrees. During the high season, which begins at the resort in May, is to book a hotel in advance.
Argue about taste
Restaurants and cafes of Anapa - a unique fusionRussian, Caucasian and Oriental cuisine. Kebabs and rice, dumplings and pasties, salads and pastries, in each institution has its own menu "highlight" and "nails" of the program. Many cafes open right in the beach area, which makes it possible to have a snack or a full dinner, without departing from the sea. The main criterion for the selection of such institutions - evaluation of sanitary conditions and the number of already tanned and, therefore, experienced campers waiting in line.
Cognitive and exciting
In addition to excellent beaches with a gentle entry into the water,Major attractions of Anapa - a Aquarium with the Black Sea fauna and Victory Park with its many attractions. You can take lessons scuba diving, and yacht club -nauchitsya set sail in the diving center. Night clubs and discos are recommended for young parents and adult children, and an excursion to the Dolphinarium particularly like kids.
Photos trip to Alanya