Excursions in Anapa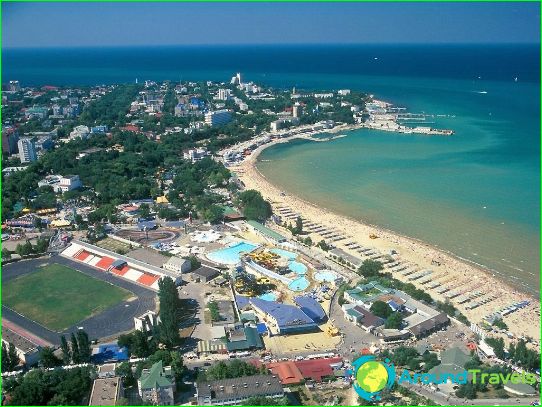 If you have chosen your holiday Anapa, theWe made the right choice. You can not only get better swimming in the warm sea, relax on the beach, but also to learn many new things, going on trips. In this city, which has no less than 250 years, there is something to see. In these places, still live many legends and stories about the amazing past, where you can learn in more detail, if you go on organized excursions in Anapa. There are programs with a historical bias, special tours for families with children, visiting museums or waterfalls in the vicinity of the city, pilgrimages, etc. Museums abound here and for every taste.
Money Museum;
Russian Bells Museum;
Museum "Mother Mary";
National History Museum.
In addition to museums, there are many historical places, beautiful places nature also noteworthy travelers.
If you relax with the kids ...
Dolphins - the amazing and unusual animals. If you stay with the children, we advise necessarily to visit the dolphinarium. Performing dolphins and sea lions will leave no one indifferent. And how much good feeling you will experience, looking at the graceful movements of sea creatures!
If you are not indifferent to the history ...
Must touch it andgo on an excursion to the dolmens. These ancient structures made of stone slabs on age can be compared to the Egyptian pyramids. Yes, they are not as majestic, but keep in yourself no less secrets than the world famous Sphinx. The guide does not necessarily tell you a legend about how they were built and why, what mattered to people living many centuries ago in these lands.
If you want to ride a horse ...
For lovers of horse-riding and nature specialconducted tour of the valley Sukkah. If you do not have enough experience to keep himself in the saddle, it is still worth a visit here. Throughout the tour, the next will be an experienced instructor who will always prompt and helpful. The trip goes through beautiful mountain places of Anapa. For tours should be reserved comfortable shoes and clothing.
sightseeing tours
If you are looking for a short period of timelearn more interesting and informative about these places, we recommend to sign up for sightseeing tours in Anapa, where there are also many. Very interesting and rich will be a sightseeing tour with a walk on a yacht, visiting "Gorgippia" museum, which contains unique archeological artifacts. On this tour you will also get acquainted with the Russian-Turkish gates that serve as a silent reminder of the Russian-Turkish wars and, of course, taste the wines of the Kuban.
Many people will like and tour tovisit Temryuk. The focus here visit the Archaeological Museum "Military Hill", which is under the open sky. During the tour planned and a visit to a winery with tasting of wines of Taman.
Choose any tour to your liking and enjoy your vacation!
Tour Photos Anapa