What to do in Anapa?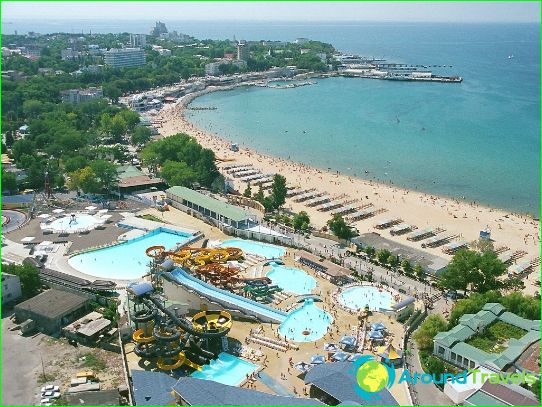 Anapa - Russian resort on the Black SeaCoast, ideal for families with children (+ clean sea, sandy beaches), recovery (the presence of curative mud, sources of mineral water, balneological centers), as well as youth recreation (rich nightlife, sea fishing, scuba diving).
What to do in Anapa?
To visit the open-air museum - Archaeological complex "Gorgippia" (modern Anapa is located on the site of the ruins of the ancient Greek city);
View Temple of St. Seraphim of Sarov;
View on Anapa lighthouse;
A stay at Serpent Lake, which is located near the village of Great Urtish (here it is possible to rent a yacht or catamaran ride on the lake);
To go to the reserve "Big Urtish";
Fish in the carp farm "Red Hill" (village Gostgaevskaya).
Things to do in Anapa?
Introduction to Anapa should start with a walk through the city center, where there is a lighthouse, a water park, promenade with flower beds ...
With children, you can go to the circus tent to look at the view, which provide trained animals, and visit the dolphins (you watch dolphins play fun).
In Anapa lovers pebbly and sandy beaches. In addition, the resort offers water parks "Golden Beach" (Dzhemete district) and "Taki-So" (Pioneer Avenue).
Lovers of calm and leisurely walks, can go to the "Alley of Love", and wishing to experience the thrill - to carry out paragliding.
Arrived in Anapa on the treatment session can passampelotherapy (treatment of grapes) and mud (mud therapeutic hydrogen sulfide can be found on the lakes Chumburka and salinity, as well as in estuaries and Vityazevsky Kiziltashsky).
For the enjoyment of recreational activities, along withchildren must visit waterskiing park - here you will learn how to ski on the water, or go on a boat on a sea voyage, and children can play on the playground and jump on the trampoline.
Archery and crossbow in the dash,go to sport fishing, paintball - may be at an amusement park, "Braveheart" (Sukkah Valley). Immediately there is a rope city, where children and adults can climb on rope bridges and crossings (there are trails for all levels).
Evenings can be spent in the nightclubs and discos, for example, the "Riviera" or "Mabie" where you can not only dance, but also a bowling alley.
Get acquainted with the flora and fauna of the Black SeaYou can go diving. So, it should pay attention to the southern part of the resort - it is famous for its rocky bottom with great depths, underwater rocks, where you can find crabs, mussels, brine.
Hotels in Anapa, you can visit the Valley of the lotus, the castle "Lion's Head", where the real jousting tournaments, dolphins, relax on the beaches and water parks.
Photos you can go in Anapa