Beaches in Gelendzhik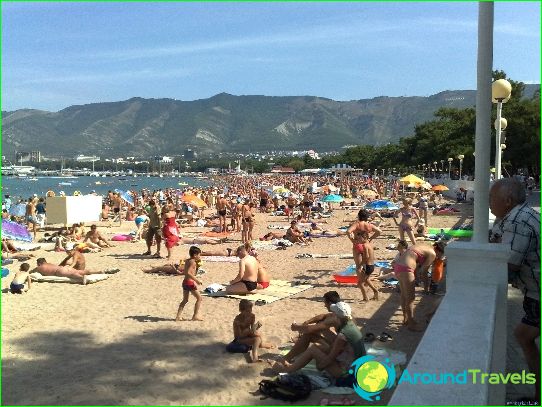 Accommodation in Gelendzhik is considered sufficientlyprestigious event, so people who can afford it, will inevitably cause respect. On the territory of Gelendzhik a large number of beaches that can be classified depending on the budget possibilities of each guest. Gelendzhik beaches are particularly popular in the warmer months, and the peak season is observed in the beginning of May and mid-July.
Sanatorium "Chernomorets" and the local beach
This beach is considered one of the best on the right inGelendzhik. It is noteworthy that at the entrance to the beach a rest meets the beautiful bronze lady who has all kind shows how to relax properly. It is possible to rent any beach equipment for any period. On the beach there is a small water park, which is very delight your children. Adult entertainment is also there, in fact the best sandy beaches are renowned for their quality of Gelendzhik:
inexpensive restaurants and cafes with a variety of dishes;
bar with soft drinks;
swimming pools;
diving center;
solarium and aerary.
Also on the beach there is a local clinic.
Pension "Caucasus" and the local beach
One of the local attractions - itMore local lighthouse, which no longer works, but rather, is an eloquent monument. This lighthouse divides the bay into two parts. The local beach is very spacious, and paved with small pebbles, so injure his leg here will hardly. There is a small bar, water bike and boat rental, bar, medical center. The water in this area is very clean and pines growing close to enrich the air pleasant pine scent. Those sea is not enough, can also visit the local swimming pool.
Holiday Hotel "Primorye" and local beach
It is noteworthy that the pension itself is locatedliterally in the heart of the resort. The beach is pebbly, and the descent to the sea is very convenient. On the beach there is a large entertainment area, where they can have fun not only children but also adults. There are many suggestions for outdoor activities: jet skis, riding on a parachute, long walks on the boat (boat trips), water skiing, fishing, diving - whatever your heart desires! Especially for children on the beach area located a small water park with inflatable attractions. Also for children there is a separate enclosed area for swimming. Local workers provide leisure and small entertainment program. Every day, visiting musicians, DJs and animators will hold contests and concerts, which can participate anyone. Activities on this beach will appeal to both adults and children.
Photos Gelendzhik beaches