Viewpoints Gelendzhik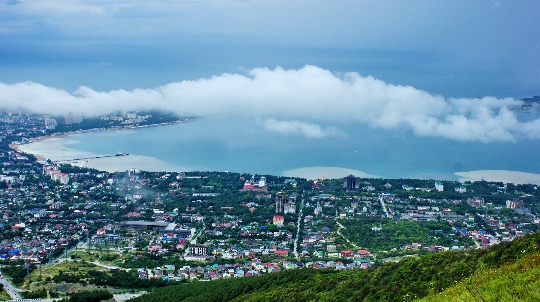 Sight Gelendzhik area offer theirguests see from the height of this resort city with its modern health resorts, the seafront (length - more than 14 km, there is a monument cat scientist) and beautiful streets.
Safari Park (the top of the ridge Markotkhsky)
Lifting the best area (640 m above theSea) for a review of the city of Gelendzhik Bay and carried by cable car (20-minute journey you will overcome 1600 m). It should be noted that the special types of visitors to the site appear at sunset.
In addition, guests of the park will offer:
meet with zebras, bears and monkeys;
see the dolmen;
visit the "Bear Cave" (guests will seestalagnates gigantic, underground lake and stalactites hanging from the ceiling, resembling ice icicle), yard bird, cage, Maritime Museum (then collected at least 2,000 artifacts raised from the seabed), exhibition on butterflies;
satisfy your hunger in one of the cafes.
How to get there? Come to the aid free express, delivery carrying guests to the safari park from the bus stop, located on Kirov Street, 55.
Address: Street Odessa, 13a; the cost of visits to all facilities of the park - 800 rubles (paying by credit card, the ticket will cost you 500 rubles; 5-12 year olds receive a 50% discount); official website: www.safari-park.su
The park "Olympus"
On the observation deck, overlooking Gelendzhik Bay and the surrounding area who want to take the cable car (length - 1150 m, lifting height - 420 meters, the path will take approximately 15 minutes).
Among the other guests access entertainment pinZoo "Jungle", where you can touch ponies, rabbits, and other of its inhabitants; picnic area; Ferris Wheel (its diameter - 25 m evening Wheel illuminated and clearly visible from the embankment; 1 lap riding on the attraction included in the visit to the park, but if you want to ride again, over a one-time ticket, you pay 100 rubles); and still there will be able to visit the "fire show" and a beer party or a ride on a rented ATV or bicycle.
Address: Street Kupriyanov slot 1; official website: www.park-olimp.ru; Ticket cost - 700 rubles / adults, 350 rubles / children 5-11 years.
Stella "Gelendzhik"
Around the stele located at the entrance to the city, equipped with a viewing platform - hence the recommended scenic views of Gelendzhik.
As part of the settlement GelendzhikBette, you come here, travelers will be able to enjoy not only the village itself but also the horizon (for walking hiking trails are provided, on a clear day you can see peaks of the Caucasus Mountains).
Photo