Rest in Gelendzhik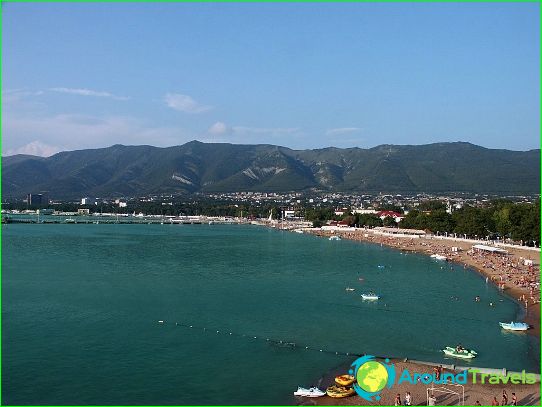 Rest in Gelendzhik - a wonderful air, the beautiful sea, an abundance of natural healing factors, development of tourist and recreational infrastructure.
The main types of recreation in Gelendzhik
Excursion: on one of the excursions you can see the old lighthouse, the Ascension Temple, Sail Rock, explore Guam gorge (a walk, you can admire the waterfalls and caves).
Beach: to the guests about 150 mostly pebble beaches. If you - a lover of nemnogolyudnyh beaches and clear sea, head to the beach "Breeze", equipped with comfortable descents into the water and sun loungers. Couples with children should pay attention to small-pebble beach in the blue bay with a gentle slope into the water. Glory brought this little town and park Oceanology Institute, located near the sea - if you want then you can walk.
Active: here you can enjoy jeeping (if you are interested in entertainment, calculated for a few days, you will be offered a rest in specially equipped camps), windsurfing, scuba diving (at the dive centers experienced divers will provide an opportunity to feed the colorful fish and swim in the grottos), go cycling or horse walk, play a game of laser battle in the entertainment club "laser combat".
Family: couples with children like water parks, "Hippo", "Dolphin", "Golden Bay", in the Dolphinarium, a safari park (because it has a museum, exhibition center, zoo, cafes and restaurants, recreational and park areas, the cable car, then You can spend an entire day), an amusement park "Olympus".
prices
The level of prices for tours in Gelendzhik depends on the season. The most optimal period for recreation in Gelendzhik is considered from June to September.
Despite the fact that the holiday season opens inJune - it marked the beginning of the festival "Gelendzhik smiling sun" (during the week where you can see performances by the stars of Russian show business), the main influx of tourists is observed in July and August. At this time, the value of permits increased, for example, hotel occupancy rates increased by 40-60%, while in the private sector - by 100-200%!
Save on the cost of permits in Gelendzhik canLow season - from late October - early November (this time should be spent on the tour program and treatment), and in May, when the prices for accommodation are becoming more attractive.
On a note!
Going on the road, bring the necessary medications, comfortable shoes and clothes for changing, 1-2 dress for an evening out, headdress, protection from sunlight.
If you are accustomed to a comfortable rest,it is advisable to stay in small private hotels and boarding houses (many of them provide a range of services at affordable prices). And traveling a large company, it is necessary to stay in private apartments (on the beaches, railway stations, markets, you will meet people who will offer to remove them from the housing).
In memory of the holiday in Gelendzhik can bring shells, honey, nuts, jam, wine, souvenirs with the symbols of the resort.
Photos recreation in Gelendzhik