Sight Sochi area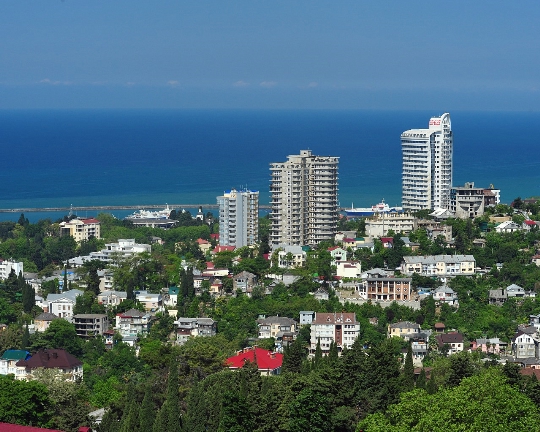 Sochi and its amazing natural beauty travelers are advised to examine the dominant - this task perfectly cope inspection Sochi area.
Review of the best viewing points
Lookout Tower (built in 1936, Its height - 30 m) on Mount Ahun (to get here, you can take a taxi or tour transport): here will be able to stand up to the observation platform (it is located more than 600 meters high), which allows to consider the vicinity of Sochi, the Black Sea coast, peaks of the Caucasus Mountains. Location: Mountain Big Akhun (recommended to buy a tour, because in this case you are not only hassle-free access to the tower, but also be able to listen to an interesting story of the guide); The cost of visiting the tower and a small museum (exposition introduces the flora and fauna that inhabit the local mountains and forests) - $ 100 (children under 7 years - free of charge). Arriving by car? Follow the signs to be followed to Ahun: 20 after overcoming the steep turns and 11 kilometers ascent, you will find yourself next to the tower.
Species Tower (located in the 146-meter heightabove sea level) on the mountain battery: in the tower is a café, a cup of coffee to enjoy views of the city and its streets, as well as the sea and the mountains. Address: Street Alpine, 18a.
"AJ Hackett Sochi" Sky Park
Visitors will be able to walk on a suspensionpedestrian bridge (construction on the 200-meter height to withstand 3,000 people), while enjoying the mountain scenery. Inspect the neighborhood you can ride and try out "Sochi swing" (they will lift you to a height of 170 m).
SKYPASS purchasing a ticket, the price of which is1600 rubles / adults and 500 rubles / 5-12 year-olds (the price includes parking + shuttle from the train / railway station), you will have access to the park, to the viewing platform and bridge. Address: Street Krasnoflotskaya.
eagle rock
At the top (height above sea level - more than 370m), visitors will have to wait to review the marketplace with the established figure of Prometheus, which breaks the chain - from here get to see Sochi, Sea, Mount Akhun. Tip: to visit Eagles rocks is recommended to dress in comfortable clothes and shoes. Address: Khosta District of Sochi.
Restaurant "Top"
This panoramic restaurant, located on the2200 meters high, will appreciate wishing to admire the mountain peaks (binoculars will allow to consider the surrounding beauty in more detail). Address: Sochi, pos. Esto-Sadok.
LCD "House-Pioneer"
Guests are advised to use the elevator,to get to the 20th floor - there, on a balcony (it is decorated with fresh flowers) in front of them opens wonderful view of the Central District of Sochi. Address: Street Young Lenintsev, 24.
Photo