Shopping in Sochi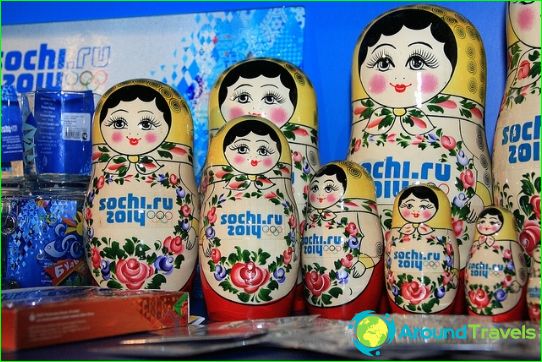 Sochi, with its warm climate, the sea and the magnificentbeaches attracts many Russian and foreign tourists. Therefore, the entire urban infrastructure aimed at travelers. And what holiday without shopping? Therefore, in addition to all kinds of resorts, lodges, hotels, boarding houses, guest houses, cafes and restaurants, the city has an abundance of great shops, luxury boutiques, huge supermarkets and shopping centers.
Each camper is trying to bring the family andsome memorable gifts to friends, and so the question of what to buy in Sochi, is relevant for all tourists. But since the city became the venue for the Olympic Winter Games in 2014 - there was a real boom in shopping. All guests of the southern capital willing to buy any Olympic souvenir, regardless of whether it is a small trinket or expensive sports equipment.
Memorable gifts that can be brought from Sochi
Souvenirs with Olympic symbols. On every street are selling T-shirts, caps, mugs, soft toys, photo frames, bags, key chains, pencil cases, cushions or suspension with the mascots of the Winter Olympics - white teddy bear, bunny and leopard. Also in great demand are the beautiful handicrafts made of shells, plates with sea views, pottery. Memorable, though more expensive gifts can become Olympic coins and stamps with symbols of the Sochi 2014.
folk art objects. Russia - a country famous for its national fishing: Russian samovars, matryoshka dolls, from the Gzhel crockery, balalaika, Zhostovo tray, etc. Perhaps one of the most popular Russian souvenir that you can buy in Sochi, are the dolls, which are in the spirit of Russian. people.
Delicacies. Other popular presents the Sochi are locally produced delicacies - adjika, Krasnodar tea, mountain chestnut honey, delicious honey and nut desserts. And, of course, is to buy a bottle of the famous Kuban wine, brandy, liqueurs, or balm. In Sochi there are several specialty shops that sell original drinks - "Dionysus", "Kuban wines", runs a tasting room "Arcadia."
Clothing. For lovers of fashion apparel and footwear Sochi can offer a variety of boutiques, shops of branded shoes, clothing and accessories. They are very, very much. In this southern city, you can find products of almost all the most famous brands.
If all of the above embodiments do notinterested in, leaving the Sochi you can grab a simple shell with the Black Sea coast, which for many years will serve you as a reminder of their stay. And the question of what to buy in Sochi will not be relevant for you.
Sochi Number of Photos