Beaches Lazarev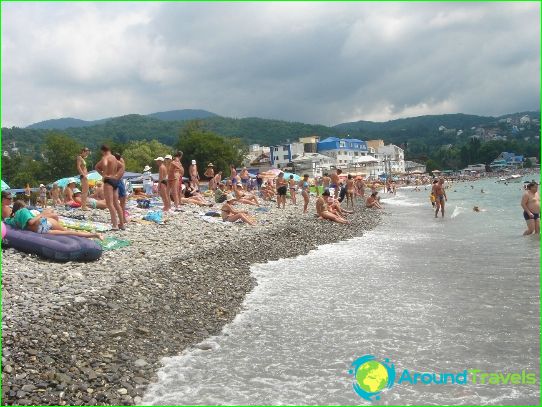 The strip of beaches near the village of LazarevskoyeIt extends about 7 km, and the beach itself can be up to 50 meters in width. It's not much, but large areas tend to attract a lot of tourists and you can relax in the company of best friends or family members. Beaches in the Lazarev fit and wildlife lovers, and fans of the most comfortable stay - everyone will find here a place for the soul.
Benefits pebble beaches
Most of the beaches of the village Lazarevskoe pebble,and pebble size or average, or slightly larger than average. You can find sandy islands, if the legs are too tired of small pebbles. It is noteworthy that the gravel is very good for human health. It is heated by the sun and has a positive effect on specific points on the feet and back. Many travelers like the fact that after a rest on the pebble beach is not necessary to shake off the things of the sand. The wind will not bring sand into your mouth, if you choose something to eat, and long hair do not have to wash several times a day.
A variety of beaches, the village of Lazarevskoye
Rest in Lazarevskoye likely to appeal to many, because the local resorts can satisfy even the most demanding tourist. There is a lot of interesting things:
nudist beaches for vacationers, without complexes;
not crowded public beaches;
beaches with mud;
beaches with good infrastructure (cafes, bars, restaurants).
Local nudist beach located betweenAsha and villages Lazarevskoe. Pebbles are small and average, and the beach strip extends as much as 300 meters. Because of its specificity beach is considered to be wild, so the usual tourist services will be deprived of rest. However, this does not prevent them to relax and get a lot of new experiences.
Not crowded beach "Dolphin" in the streetsLazarev is one of the quietest in the village. Though the best sandy beaches of the village of Lazarevskoye and attract hundreds of tourists vacationing on the beach "Dolphin" will be able to enjoy the peace and tranquility. There is a lovely promenade and canopies for rescue from the burning rays of the midday sun. The beach is equipped with changing rooms, there is a possibility to take a shower of fresh water. Kids can slide down inflatable slides, ride a banana boat, and adults - have fun with the help of jet ski or catamaran.
Beach "Amber" offers travelers a wholeentertainment: here it is possible to even rent a mask, flippers and some other accessories for a beach holiday. "Amber" - a pebble beach, where sun beds available free of charge, but for rent chairs and umbrellas have to be paid. The beach has a medical center and a vigilant sentinel of the rescue service.
Photos beaches Lazarev