Tuapse Beaches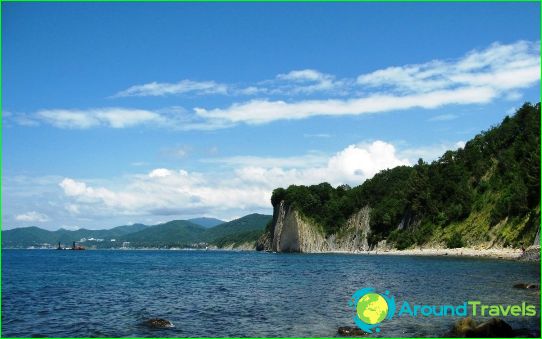 City Tuapse resort is considered, and this statushe got an ulterior motive: every year it attracts residents of the Krasnodar Territory and the surrounding region, to rest and gain strength before another busy year of work. Tuapse beaches are in great demand at least because, in addition to fairly good holiday on the Black Sea coast, visitors can also admire the work of local seaport.
However, we must remember that it is because of the presence ofa large port in the city is never quiet and calm, so travelers should immediately prepare for the constant noise and clatter. Whatever it was, in the resorts of the Tuapse district, you can enjoy the peace and, therefore, people in the know choose to relax just them.
So, what's the good beaches of Tuapse region?
Most of the coastline - 60 km;
the presence of gravel, sand and gravel and sandy beaches;
A remote beach on the territory of sanatoriums and boarding houses;
Smooth seabed, excellent depth, no rocky ledges;
high level of service;
good equipment beach equipment and reasonable prices.
All this makes the tourists choose Tuapse for their annual holiday, and local residents - proud of their own city.
The best beaches of Tuapse resorts
The best sandy beaches are in demand Tuapsejust at families with young children, because kids love to build castles and other figures from the sand. The central city beach lovers sand coating is also nice: at least its middle and is composed of fine gravel in the south-eastern part is a large sandy area. The central city beach stretches for 1.2 km from Tuapse River to the boarding house "Spring", and it was chosen and visitors and locals. The beach area is regularly cleaned, so the stereotype of the "city - so dirty" does not work here. The sloping entrance into the water, allowing it to warm up quickly, so the risk of catching cold is reduced to almost zero. On the beach, vacationers will find numerous cafes and bars.
Another very popular beach - this is the "GoldenBeach "in Lermontov. It is quite small but very clean and tidy, and vacationers here is not very much. The beach at the "Eaglet" camp is considered the best in Novomikhailovsky, but swimming is allowed only leisure center.
"Wild" beach, located 4 km from the centerthe city is not up to its name. Here is the necessary beach equipment, you can buy souvenirs and fruit, and people are not as many as on the central beach. The locals love to relax here, because "Wild" allows you to be alone with yourself, enjoy the warm quartz sand and desert landscape.
Photos Tuapse beaches