Children's camps in the Krasnodar Territory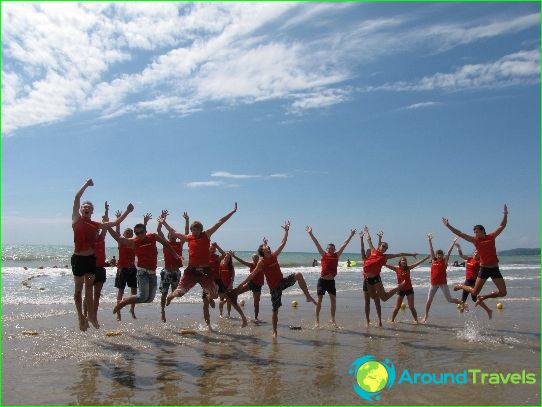 Children's holiday at the resorts of the Krasnodar Territory -it is, above all, rest on the sea coast. A large number of health centers, specialized boarding houses, sanatoriums and camps makes this region of Russia is very attractive. Children's camps in the Krasnodar Territory invite children not only during the summer and winter holidays, but also on other days.
Relax in the Territory can any childage, since 7 years. In each camp the children are distributed into groups, focusing on age. The children are waiting for all sorts of entertainment and interesting excursions. Krasnodar region has a wealth of intriguing places, visiting which is a part of the camp. On the territory of the southern resorts have beautiful beaches, water attractions, sports facilities, swimming pools and water parks. Children visit the Arboretum, zoo, monkey nursery, the Dolphinarium, the ostrich farm and other interesting objects. Resort life of Krasnodar region is rich in educational events and spectacular events. The climate is perfect for children's activities. The warm sea, an abundance of sun and exciting program, compiled based on age - these are the factors that make a vacation memorable and useful.
The mild climate, sunny weather, warm sea andextensive entertainment program, made age-appropriate young guests, make a family vacation in Sochi with the children a memorable and rewarding. Popular children's camps in the Krasnodar Territory is located in Tuapse, Anapa, Gelendzhik and Sochi. A very wide range of vouchers offer Anapa camp. By choosing this destination, you will not regret it, because the child will be able to get a lot of impressions from a beach holiday. Soft sand, fresh air and warm sea water - the main advantages of Anapa.
Excellent children can relax on the territory of Sochi. Nature there is striking for its amazing beauty. Rest in the best tradition of children's camps offer Tuapse and Gelendzhik. It is in the Tuapse region is famous all over the country All-Russia Children's Center "Eaglet". In his camp try to get boys and girls from all over Russia. In the center is better to buy a ticket in advance.
Activities in the Krasnodar Territory - isreasonable prices, plenty of fresh fruit and vegetables, as well as the possibility of recovery. Year-round work in the province multifunctional sports and recreation camps for children. Their programs include the treatment, disease prevention and recreation, rich experiences.
Photos of children's camps in the Krasnodar Territory