Children's camps in the Lazarev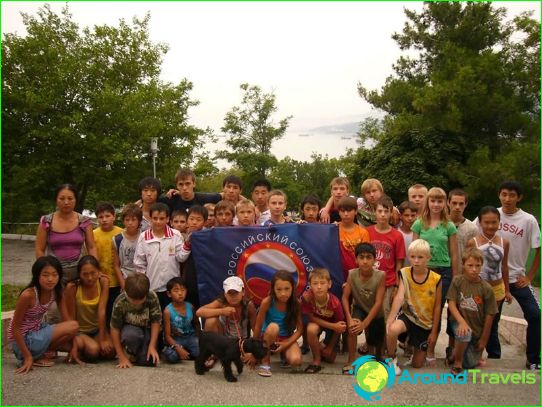 Rest in Sochi children's camps organized onhigh level. Safety, quality of food, accommodation, recreational facilities, cultural events - are the main factors that speak in favor of children's camps. The list of the best children's camps get institutions located in the Lazarev. This holiday village is in the center of the Lazarev district of Sochi. There is no fuss, typical for such a large resort cities like Sochi, but the village infrastructure is excellent. Lazarevskoye is located between Adler and Sochi. On holiday tourists come here from all over the country. In Lazarev are many boarding houses, recreation centers and summer camps. During the season, children's camps in the Lazarev take tens of thousands of children from all over Russia.
Which vacation offers a children's camp
Medical and health institutions in the Lazarevinvite children from 7 to 16 years. For stays are comfortable cottages or housing. Base camp for children includes a dining room, medical center, sports fields, parks, green areas, disco and others. Next to each institution is well-equipped beach, which has everything you need for quality recreation. The area of ​​each camp is guarded around the clock, ensuring the safety of children. Rest in children's summer camps, combined with treatments. Each child can take a course of massage and other recreational activities. In Lazarev holiday season lasts from May to October, but most camps are empty in September.
What do the children in the camps
Children's camps in the Lazarev - an opportunityvisit unique places located on the Black Sea coast. Besides beach rest and treatment, children are offered an exciting entertainment program. Guys make excursions on the most beautiful places in the area, go hiking, visit the dolphinarium, water parks, museums. In Lazarev lot of attractions that can be divided into two major groups: natural and man-made. The interest of the students is the Ethnographic Museum, which allows you to get acquainted with the customs of the natives. Fans of mysteries like the dolmens, which are also among the oldest attractions Lazarev. Next to the resort village are waterfalls of varying heights. Tours require a trip to the two famous areas with waterfalls that represent the "valley of Asha" and "33 waterfalls".
Photos of children's camps in the Lazarev