Viewpoints of Rostov-on-Don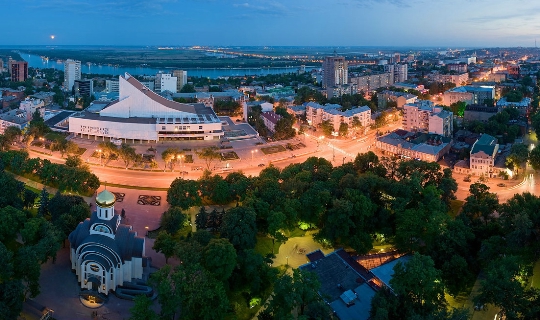 Viewpoints of Rostov-on-Don offersvisitors to the city to see a different perspective of the building of musical theater (building shaped like a grand piano) and Drama (the tractor has a shape), Rostov Cathedral (five-domed church - building, reflecting Russian-Byzantine style) and other famous monuments.
The observation deck on the street Sedova
Finding her in the park, visitors will be able to enjoy the beautiful sunsets along with his partner, and offers the best views of the Don and the left bank.
The observation deck in Gorky Park
Travelers who come here will be able to standon the enclosed observation platform, which features Sundial - hence be able to admire the fountain, and the general's bay (it is famous for its flower beds and flower arrangements).
Furthermore, in the park can be:
stroll through the picturesque alleys;
play a game of checkers and chess in special pavilions;
a ride on the Ferris wheel (height - about 30 m);
visit the exhibition hall "experiment" and the Astronomical Observatory;
to take part in recreational activities (then systematically arranged festivals, competitions, exhibitions and concerts, so the park is located concert and dance floors).
How to get there? Before the park can be reached by trolley bus number 22,1, 9 or bus number 7, 3, 70, 80, 3a (Address: Bolshaya Sadovaya, 45)
The observation deck in the building of "Merchant Yard"
The building "Merchant Yard" (equipped with high-speed elevators) consists of 16 floors: Upstairs, guests will be able to enjoy the city. Address: street Socialist, 74
Golf review Aleksandrovka
This site, where you can see Don and spend time with friends, can find near the Jazz School named Kim Nazaretov, which is located at Avenue 40 years of Victory, 318/1.
Panoramic restaurant "Sky"
Visitors of the restaurant (it is possible to see up to 2o'clock in the morning), located at level 8 of the hotel "Europe", not only were treated to dishes offered on the menu, but also admire the views of the city, the flight of birds and the starry sky. Address: Prospect Voroshilovskiy, 41/112; official website: www.skyrostov.ru
Other options
It is worth noting that in Rostov-on-Don in the summer 2016Revolution in the park (Theatre Square, 3) you should see the Ferris wheel, 65 m in height - thanks to closed booths, guests and city residents will be able to ride this attraction both in winter and summer.
Resting in Rostov, do not miss the opportunitygo flying in a balloon, which is a great experience and will last about 1 hour under the guidance of a professional instructor (approximate cost - 22 000 rubles / 2 people).
Photo