Sight Tuapse area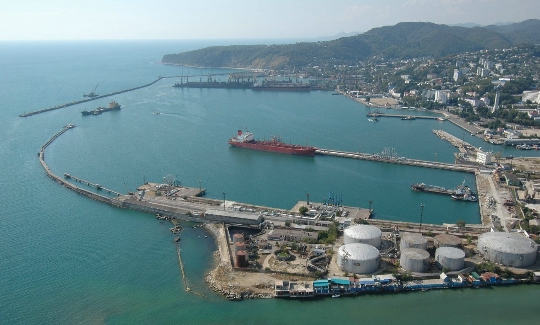 If you climb the observation Tuapse area, you can enjoy a different perspective Primorsky Boulevard, caves and cliffs, waterfall Perun and other objects.
Overview of natural lookouts
Agoysky Pass: this pass, famous for its twists and green spaces, and separates the village of Aga Tuapse - at its peak travelers will find a monument to soldiers of the Taman army. If you walk from the monument to the edge of the concrete path, you can reach the observation platform (it is located in a grove of chestnut trees), which will be able to admire the panorama of the sea, the valley of the river Agha, the coastal mountains. In addition, you can see the local beauty and one of the turns on the pass, and if you want you can look at a cafe "Panorama", located nearby.
Skala Kiseleva: rock, height 46 m - Tuapse symbol (here can see the sea and the beautiful surroundings), and as near to it there is a beach, then this news is for lovers of sea bathing. How to get there? From Tuapse you can walk along the sea coast (4 km southwest).
Cape Kadosh: It is no less attractive place for travelers - hence open up some of the best views of the local beauty and prehistoric man of the Neolithic and Paleolithic was discovered here; Forest Park stretches (here grow rare plants as orchids, berry yew, gorse, Pitsunda and Crimean pine); You can see ancient dolmens and pitch a tent if you want to (fire plant is forbidden). How to get there? From Tuapse station can be reached by taxi or bus, but if you want to hit the road, you can within a recreational tour voyage by boat.
Rock Training: on top of a cliff, 16 m high (it is located 5 km from Tuapse), grow beeches, chestnuts, oaks and various shrubs - there are beautiful views of the surrounding area, as well as on a small lake (north side of this natural monument). Before the rock is better to go by car on leading her dirt road.
Gorka heroes
Since the monument is located on a highplace, being here will be able to admire the beauty and the Tuapse port (get upstairs, where the museum, can be the stairs, passing several observation points at different heights).
Address: Street Poletaeva.
Café "Gourmet"
Enjoy the taste of dishes (specialties -fish snacks) serves on one of the three floors of places, but the greatest interest to travelers is the panoramic terrace on the 3rd floor - you can contemplate the kinds of Tuapse, watch sunsets, stars and vacationers.
Address: Gagarin st, 7.
Photo