Malaga Airport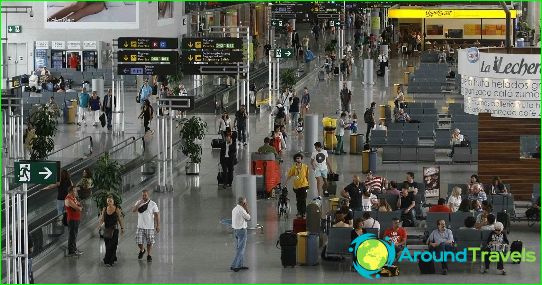 Among the most important tourist centers in Spain,surely it should be noted Malaga. Airport in Malaga, also called Airport. Pablo Picasso, the number of passengers in the fourth place, behind the airports of Madrid, Barcelona and Palma de Mallorca. In recent years, the significance of passengers for the year close to 13 million. The airport itself lies approximately 10 km from Malaga.
Airport in Malaga is working with many airlines around the world, including with Russia's Aeroflot and Transaero.
Airport has three terminals, one of whichCurrently not in use, as well as two runways, length of 3200 and 2750 meters. Built in 2012, the second runway allowed to increase the maximum capacity to 30 million.
Also worth noting is that the airport in Malaga flights serving 85% of the autonomous community of Andalusia, in a number of provinces which includes the city of Malaga.
services
Malaga Airport offers passengers a variety of services. Among the standard services can be noted - mail, luggage storage, banks, ATMs, etc.
Area shops and cafes is divided into two parts - Centro Plaza and Centro Comercial.
At the Centro Plaza in addition to cafes and restaurants can bevisit the pharmacy and various shops. The Centro Comercial zone is duty-free shops. Also, if necessary, the passenger can address your health care in a medical center.
Also at the airport within the designated area of ​​VIP-passengers and passengers of business class - business lounge, VIP-hall, meeting room.
companies are working on the territory of the airport, with car rental.
Transport
There are several ways to travel to the city and surrounding areas of the airport in Malaga.
In the center of Malaga buses leave regularly, which stops at terminal 3. Travel time will be about 15 minutes and the ticket price - 2 euros.
Also on the bus you can reach other parts of the Costa del Sol:
Over 4.5 euros you can get to Belmadeny and Torremolinos by bus №128
For 2.05 euros you can get to the Santa Amalia bus №135
Buses Marbella-airport line and Estepona airport line dovezut passengers to Marbella and Estep station respectively. The price of travel will be around 9 euros.
Also from the terminal 3 trains, following in Malaga, Torrimolinosu, Benalmádena and Fuengirola.
The fare depends on the destination and can range from 1.60 to 2.5 euros.
Photos Malaga Airport