Beaches in Alicante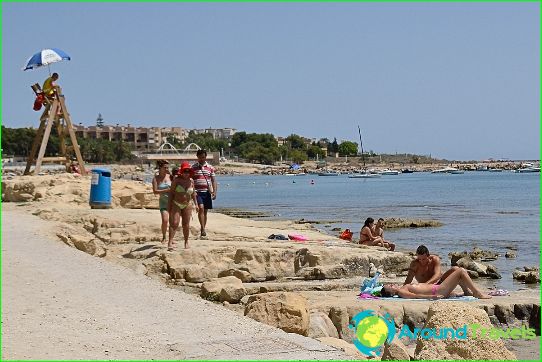 Alicante - the city that serves as the administrativecenter of the homonymous province. He is the chief of the coast, called Costa Blanca, meaning "White Coast". Beaches of Alicante every year collected a lot of vacationers. This is only one among the resorts in Spain, located on the Mediterranean coast, and it is still not as well known among Russians as, say, Costa Brava, but the rest here for decades the British, Scandinavians, Germans, French and other European citizens. Spaniards themselves also not averse to visit this paradise beach. The best sandy beaches of Alicante - in our review.
Beach Albufereta
A small sandy beach, located on thenortheast of Alicante is close to the suburb, which is called Albufereta. He took refuge from the big waves in a cozy 400-meter bay, in a quiet rayonchike, surrounded by residential houses. This is a very beautiful beach, with golden sand and calm waters. It was stretched to a length of 423m, and has 20 m in width. There are plenty of playgrounds, organized catamaran rental, and there is enough small, so a beach holiday with young children is largely safe.
Also here are the sports grounds. The beach is a sign of the "Blue Flag".
El Postiguet Beach
In the heart of the resort of Alicante, near thebenacantil foot of the mountain, famous for its castle of Santa Barbara, located the beach of El Postiguet. It also marked the "Blue Flag". Here, amazingly pure white sand, extremely beautiful promenade, where are located many cafeterias. To get to the beach is easy, especially if you manage to get close to the center. In addition to sunbathing and swimming on the beach, in the eastern part Postiguet you can admire the spectacular competitions fireworks and laser show, which takes place on the feast day of San Juan, which falls at the end of June.
Playa San Juan
This is also a sandy beach, it is located ina suburb that bears the name of San Juan de Alicante. You will meet clean sand, and the waves are moderate, but because the beach is perfect for families with children. For adults close to cozy bars and restaurants for rebyatni - playgrounds. In San Juan, in addition, has a charming wooden walkway, working soul, open sports grounds, be borrowed umbrellas, deck chairs and sun loungers. In summer it is not uncommon cultural or sporting events.
This sandy beach stretches 2900 m. The width is 60 m. It is located in a busy residential area. The fashionable promenade will please any tourist who necessarily here will find themselves all that is necessary.
Beach Almadraba
This beach is not so great: its length is 750 m, width - only 6. But here the wonderful sand, sea is very shallow, so there a good rest with children. Waves rise very rarely, because it is a closed bay. Just organized hire sunbeds and umbrellas. But the most amazing time - it is small parking boats, both sail and motor. Although because of them far from uncomfortable to swim, but the kids always interesting to see the waterways.
Photos beaches of Alicante