Areas of Barcelona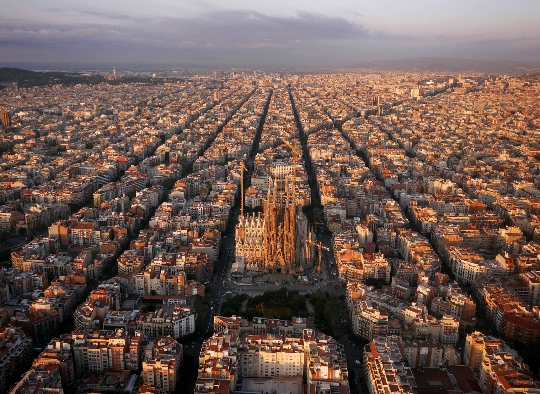 See Barcelona's travelers will be able towhen reading the map of the city - they all have interesting places to visit. Barcelona is divided into 10 major areas, including - Gracia, Old City, St-Montjuïc, Eixample, Sant Martí, Corts, Sarria-Sant Gervasi, Sant-André et al.
Description of the main areas and attractions
Old city: the best place for walking is considered the Gothic Quarter - here you can see the Cathedral, the old streets and otovaritsya necessary goods placed there shops and boutiques. If a desire to visit the art studios and galleries, it makes sense to move to a quarter of the Raval, and walk along the boutiques and will be able to visit you move in Born district in the Picasso museum tour. In the area of ​​Old Town is located quarter of Barceloneta - in addition to the sandy beach and all kinds of entertainment (you can spend time on the playground for mini-football and volleyball, water skiing, and rollerblading, skateboarding or bike along the boardwalk), guests here will find Barcelona's aquarium and restaurants where they will be offered to taste fish dishes and seafood.
Saint-Montjuïc: consists of several blocks - Montjuïc (worth a visit the museum in the medieval fortress, to get acquainted with the architectural traditions of the Iberian Peninsula in the Poble Espanyol; admire the light and musical fountains), Poble Sec (this quarter has a quiet rest - this is due to a café and gardens located here) , Sants (appreciated by lovers of bars and night clubs) and other.
Gracia: this area is the most visited in August, when there goes 5-day festival, accompanied by bright colors (residents compete in a bright and original decoration of the streets) and fun with live music. No less interesting pastime for travelers can be a shopping tour in the boutiques and shops Catalan. If we talk about the main attractions of the district of Gracia, then it is Park Guell.
Sant Martí: consists of the Olympic complex (there will not be bored thanks to the open shops, casinos, restaurants and cinemas), Publenu (contemporary art center with galleries and exhibition centers), quarter size (ideal for a family holiday, in May, you can attend a music festival Primavera Sound Festival ).
Where to stay for tourists?
Excellent hotels can be found near Boulevard LaRambla (not all of them are designed for wealthy audience) and in the area of ​​Plaza Catalunya. In the center of Barcelona with a corresponding budget, you can stay in a boutique hotel with original design and decor. If your goal is to save on accommodation, you should look for the best hotel in the regions of Corts and Gracia - to the center with easy reach by bus or subway.
Photos districts of Barcelona