Barcelona 4 days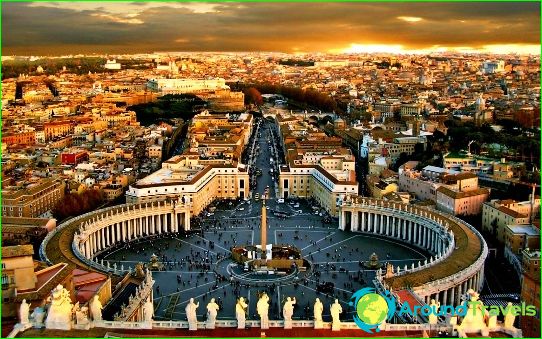 Spanish Barcelona - one of the most populartourist routes, not only in the country but also throughout Europe. The second largest city in Spain is famous for its beaches, unique architectural monuments, among them - the magnificent creations of architect Antonio Gaudi heritage. To be in Barcelona for 4 days, then have time to see all the fun and exciting.
Sagrada Familia - the most famous long-term construction in the world
Temple of the Holy Family is not in vain is considered a majora symbol of the Catalan capital. This extraordinary building rises above the city and can be seen from almost any point of Barcelona. Begun in 1882, construction of the cathedral continues to this day, and all works are carried out only on private donations. Such a condition was put initiators of construction and their will is done for more than a hundred years without fail.
Forty years of his life to the cathedral by Antonio Gaudi. Today, work on the project and his followers in one of the towers of the Church can be ready to rise to the observation deck to see the city. Tour "Barcelona for 4 days" would not be complete without a trip to the favorite child of the great architect.
Park Güell
After the temple visit of the city go to the parkGuell, Gaudi created in the early twentieth century. The main attraction of this green oasis - a bench, curved in the manner of a sea serpent and finished collages of pieces of glass and ceramics. back form follows the natural curves of the human spine, and therefore on the bench very comfortable to sit and watch the park visitors.
The park is open "Hall of hundred columns", where theconcerts by local musicians. The exceptional acoustics in the hall Gaudi made a special layout and the presence of 86 Doric columns. The park is an architect and a museum where visitors can get acquainted with the habits and preferences of the master to see his personal belongings and books. UNESCO The Park Guell brought it together with the other creations of the Spanish architect in the list of World Cultural Heritage.
At the top of Tibidabo
Once in Barcelona for 4 days, guestsand go on a tour to the top of Tibidabo. Overlooking the city, it attracts travelers with its observation deck, and an amusement park. On the hill is a funicular, which can be reached on Barcelona's famous Blue Tram. Tibidabo amusement park on more than a hundred years, and the Temple of the Sacred Heart next to no less beautiful than Notre Dame in Paris. The church soars over the city and its Gothic lancet windows make the interior a special play of light and shadow.
Barcelona
Photo