Barcelona 5 days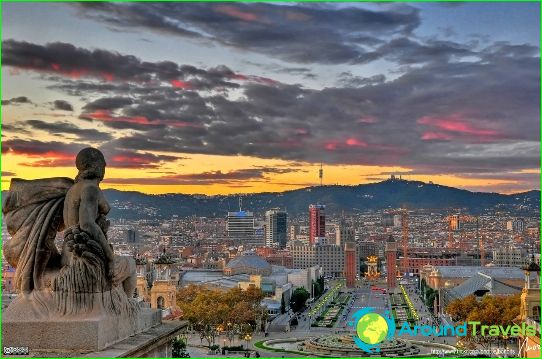 Barcelona is not quite like a typical Spanishcities. Its got some surreal from her living here Salvador Dali and Antoni Gaudi, and the most important sights of the city look like a fairy descended from the pages of the book. See all the architectural masterpieces in Barcelona for 5 days - the problem is not the easiest, but exciting and interesting.
Holy Family and Park Guell
Two famous BarcelonaSights are widely known thanks to the incomparable talent of the architect Antoni Gaudí. Church of the Sagrada Familia - the most famous long-term construction in the world. Temple began to build in 1882 on the donations of citizens and today it is amazing tower, which is taken over the city, became the hallmark of Barcelona. One of them opened a viewing platform from the heights of which magnificent views.
With the Sagrada Familia is perfectly visible and the parkGüell, for whom Antonio Gaudi designed a fabulous building and the famous bench, decorated with ceramic mosaics. The back bench is made taking into account the anatomical features of the human body, and therefore especially pleasant to rest on it. The park runs the house-museum of Gaudi, and the bright mosaic lizard - the most coveted object for photo shoots in the memory of the visit of Barcelona.
For fans of the architect can recommend to visit some more of his creations:
Casa Batllo, or the House of the bones, in the design of which is not to find a single straight line. The outlines of the building resemble in part the shape of the dragon, which has become a favorite character in the work of the architect.
The house is lovely with unique wrought-iron balconies and bars round and elliptical courtyards. Casa Mila is the first architectural project of the twentieth century, made by the UNESCO World Heritage list.
Picasso and his masterpieces
Barcelona for 5 days - it is a museum dedicated toworks of Pablo Picasso. The collection is dedicated to the early stage of the artist's work, and her pearl can be rightfully called the series "Las Meninas." These works were carried out based on paintings by Velazquez, and the museum itself is also famous for its old courtyards. The building is a palace of the XV century, and because even the interiors of its striking brilliance.
From the heights of Montjuic
The best views of the Catalan capital to opentop of Montjuïc hill, where a lot of great facilities were built to the 1929 World's Fair. The pride of the townspeople - Magic Fountain with color backlight, which every evening becomes a place of pilgrimage, and residents and visitors.
Barcelona
Photo