Barcelona Beaches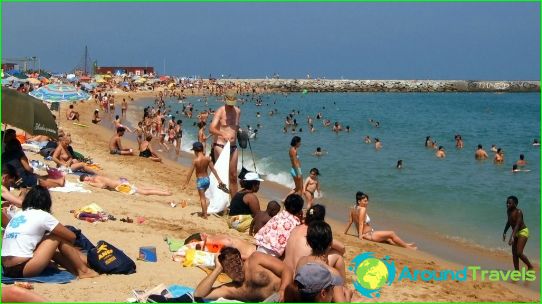 Barcelona's beaches are most in demand inperiod starting in March and ending mid-October. For relaxation, there is adapted for more than 4 km of the coast: cleansed, built up, and brought in a visually attractive appearance. Absolutely all the beaches of Barcelona in 2013, have been awarded the "Blue Flag", which confirms the high level of local service and a comfortable stay.
Tourists choose beaches depending on the addition,which area of ​​the city, they decided to stop. We can say that each the third beach in Barcelona boasts an ideal sand, incredible infrastructure and a large number of proposals in the field of water and sports entertainment. It is noteworthy that almost every local beach can be easily reached by public transport, spending quite a symbolic sum of money. The best sandy beaches of Barcelona are in such close proximity to the city center that you can reach them even on a bicycle. Entrance to the local beaches are free, but the beach equipment rental will cost an average of 5-7 euros per day. It should also be noted that Barcelona's beaches do not suggest the presence of cabins for changing clothes, so the problem must be solved for travelers on their own.
San Miguel - the oldest beach in Barcelona
San Miguel is located to the right of another is notless popular beach town of Barceloneta. It got its name in honor of the port of St. Michael, which was built here in 1755. Spanish history the Spirit felt here in every stone, in addition, are there, what to see. Services that provide workers of San Miguel, are of high quality, so the rest here will be as pleasant as possible. Just behind San Miguel is located San Sebastian.
Gorgeous Barceloneta
Barceloneta is one of the 9 most popularBarcelona's beaches. We can say that this beach is located in the heart of the city, which is why it is easier to reach all the tourist, not versed in the local routes and directions. To get to the Barceloneta is very easy: just find on the subway station with the same name and from there walk to the beach can be 15-20 minutes is not a quick step. Of course, vacationers will find a full range of services that will make their vacation a comfortable and memorable one. The very fact that you are resting in Barcelona, ​​will caress your pride, and the local sand and gentle waves will only reinforce the general impression.
By popular beaches of Barcelona, ​​also include:
Somorostro;
Nova Icaria;
Bogatell;
Mar Bella;
Levant.
Relax on the beaches of Barcelona will appeal and single travelers, and lovers of relaxing the noisy cheerful company.
Photos of Barcelona beaches