The best restaurants in Barcelona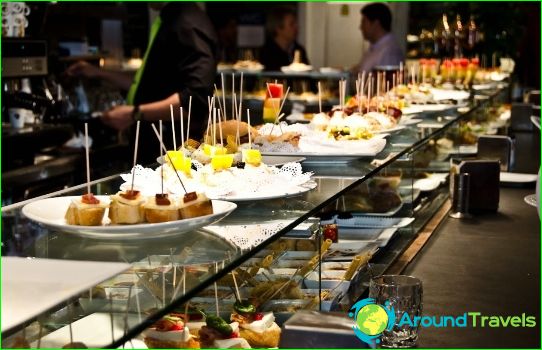 The Catalan capital - a fiery-red beauty,captivates every traveler has come into its borders. And here play the role of not only the unique monuments of Spanish history, but also its modern gastronomic life. Best restaurants in Barcelona will allow to get acquainted with national traditions, favorite foods and dishes.
Many tourists when visiting Barcelona, ​​and pay attention to eating places, because it's another way to know the country from within, through its taste, aroma, addiction.
Picasso work Menu
It is understood that the eminent painter was not engageddrawing up of the menu, but the cover was he was doing. With this legend begins acquaintance with the restaurant under the ridiculous name Els Quatre Gats, which in Russian means "four cats". Almost all the dishes on the menu "Four Cats" has Spanish roots.
In the near future, and the restaurant staffvisitors expect a stormy celebration of the centennial. The interiors preserved and restored, perhaps, they have helped to create another famous guests of this institution - Salvador Dali, who often would drop here.
The friendly house
Barcelona residents are known for their ability to pick uporiginal names for the various institutions. For example, the name of the restaurant 7 Portes ( «Seven Doors") immediately alludes to the guests that they are always welcome here, all the doors are open to them. This restaurant will soon celebrate its bicentennial, saying that he did not for a single day did not stop their activities. The interiors are reminiscent of the rich home of Spanish aristocrats, and the menu will please wines, with many years of exposure.
Under the wing of St. Catherine
Spanish cuisine - hot, spicy and passionate. But sometimes tourists tired of the fiery rhythms of the city and thrills, dreaming of a quiet shelter, and exotic cuisine to Spain. All this they will find in the restaurant Cuines Santa-Caterina, institution specializes not only in the national cuisine. In the menu you can find other directions, such as:
Eastern dishes like pilaf and shish kebabs;
Italian, including pizza, ravioli, pasta;
Mediterranean dishes with plenty of seafood.
Barcelona may be different, and incendiaryfascinating, was fond of passionate rhythms of flamenco and Spanish guitar overkill. Similarly, restaurants in Barcelona - traditional dishes and recipes, popular with neighbors, old technology and modern ways of cooking.
Photo