Christmas in Barcelona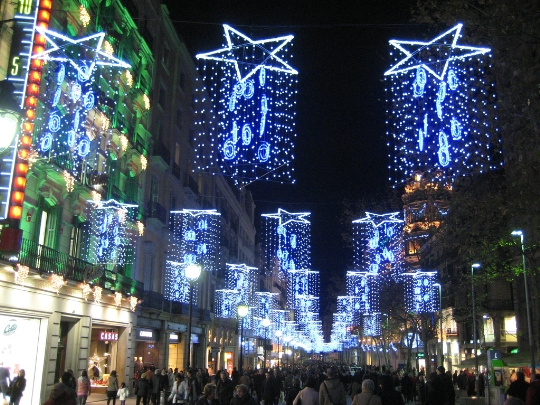 What awaits travelers at Christmas in Barcelona? The December Barcelona will meet their Christmas mood with the scent of pine needles, the light of lights, spectacular entertainment.
Features of the celebration of Christmas in Barcelona
Christmas period starts on December 8 - itthe feast of the Immaculate Conception of the Virgin Mary of the Catalans are starting to decorate their home for the holiday, including scenes of the birth of Christ. At the same time there are Caga Tio - a log with smiling muzzles in the Catalan red caps: children sheltering their blankets and fed every night nougat that on Christmas Eve, they presented gifts to them.
Locals put on Christmas tableescudella I Carnd'olla (stew of 4 kinds of meat with pasta and vegetables), a variety of tapas with jamon, eel and lobster, seafood stew, nougat (nougat with almonds), cava (Spanish champagne). The tourists can enjoy a gala dinner at the restaurant "El Tablao de Carmen" or "Asador de Aranda".
Entertainment and celebrations in Barcelona
You are going to skate? To do this you will be able at the rink, located in Plaza Catalunya (here in children and adolescents a chance to attend the free classes to teach figure skating, curling and ice hockey, but lessons need to pre-register) and the shopping center Pedralbes.
To look at the crib, you can go to the square of Sant Jaume, and admire the beautiful fountains can be on the Gran Via, Paseo de Gracia, La Rambla.
And during the holidays is to enjoy the light show, which pleases residents and visitors of Barcelona's Agbar Tower.
Christmas Markets in Barcelona
Fira de Nadal (is set next to the TempleSagrada Familia): 2-23 December at the Christmas market it is possible to get both Christmas trees and Christmas decorations, candles, sweets and honey.
Fira de Santa Lucia: November 26 - December 22 vendors here offer to acquire materials for the cribs in the form of wood and clay figurines of animals, saints, trees, plants, pots, entire scenes depicting the birth of Christ, as well as incense sticks, candles, kitchenware and leather souvenirs. And you can try ham, seafood, anise candy, marzipan, and see right outside flamenco.
Feria del Colectivo de Artesanos de Alimentacion: this year-round Christmas market in particular during the reigns revival - flock here not only for souvenirs, but also pies, wine, sweets, cheeses, chocolate, honey.
Going to indulge in Christmas shopping? Stroll through the streets of the popular 2 - Port all 'Angel and Passeig de Gracia (winter sales in all stores in Barcelona starts on January 5-6).
Photo