Holidays in Barcelona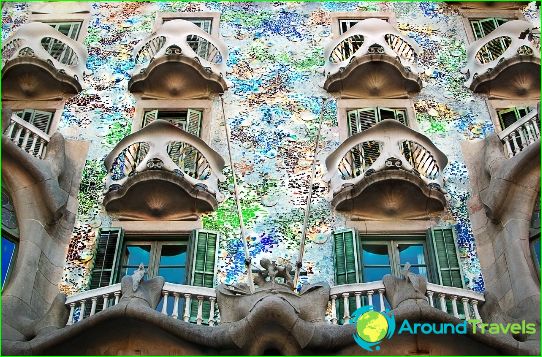 Holiday in Barcelona - it is an opportunity to plunge into the city and enjoy the wonderful beaches of the Mediterranean cultural atmosphere.
The main types of recreation in Barcelona
Sightseeing: The tour program includes walks through the Gothic Quarter and Las Ramblas, visit the Sagrada Familia, a visit to Casa Batlló, the Cathedral, the House-Museum Gaudi, Park Güell, the Egyptian and the Maritime Museum, the Picasso Museum, the Aquarium.
Active: travelers can enjoy golf, hiking and cycling in the beautiful natural places, have fun at parties in clubs "Bar Pastis", "Moog", "Marsella", rafting, take a hot air balloon ride or the aero-pipe, fly on paragliding, go on a night sea fishing.
Event: trip to Barcelona is podgadat for the celebration of the festival "La Merce" (September), the Carnival with a solemn parade and costumed procession (February-March), Spring Festival (May), the National Day of Catalonia (11 September).
Beach: the choice is to stop on the beach Barseloneta (to get there from the city center by tram, metro or on foot) - the longest and welcoming beach has showers, bars, sports grounds, rescue rigs, point of hire (rent umbrellas, chairs and other beach equipment). For guests with disabilities perfect SanSebastian beach: to the guests - comfortable shower and toilet, as well as tracks in the sand. But couples should look to NovaIcaria beach - in addition to the standard arrangement, he has a children's play area, volleyball court, table ping-pong. As for nudists and active young people, they can relax on the beach Mar Bella: this nudist beach conditions for windsurfing and kayaking.
Prices for tours in Barcelona
Managers of travel agencies is recommended to visitBarcelona in May and June, September and October. When buying tours worth bearing in mind that the price of tickets to Barcelona in the summer increased by 1.5-2 times. Also, you should be prepared to raise the cost of tours in this Spanish city on New Year's holidays, Easter and during national holidays. To purchase more affordable at the price of tours to Barcelona, ​​it makes sense to plan a vacation here in the low season (November-March).
On a note!
To keep abreast of upcoming cultural events and excursions, on arrival in Barcelona is to buy a newspaper "GuiadelOcio" (it is sold at newsstands).
Plans to visit cafes and restaurants should beknow that you need not occupy any free table, but the one that tells the waiter (regardless of the level places is customary to leave a tip of 5-10% of the total order). Keep in mind that the public can not smoke, but shopping malls and restaurants allocated to its guests special areas for smoking.
Mementos from Barcelona could become castanets, wine and sherry, olive oil, Spanish lace, ceramic products.
Barcelona
Photos vacation in Barcelona