Barcelona Metro: map, photos, description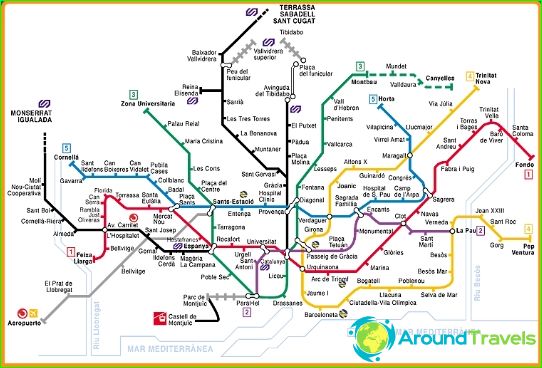 Driving Barcelona metro
History metro in Barcelona began inthe end of 1924, when the city was opened on the first line of the Barcelona metro, which connects the station Lesseps and Catalunya in the city center. Two years later, the second line was opened on the eve of the World Expo - she joined the two railway lines in the city. Further development of the Barcelona metro was interrupted due to the outbreak of civil war in starne. Construction continued only in 1946 after the end of the 2nd World War.
Currently, Barcelona Metrois 11 lines, covering the Catalan capital and its suburbs, and 163 stations. The rapid transit system of Barcelona also included the funicular and tram lines and Trambaix Trambesòs, integrated with the underground.
The main problem of the metro stations in Barcelona -accessibility for wheelchairs and parents with prams. Many stations are not available, the prospects for resolving this issue is - a system of underground improved in projects to improve infrastructure, a large number of lifts from the street to the level of cash, then the level of banks to the platforms - today, many stations still do not have such access. Another problem of the Barcelona metro - poor air conditioning carriages, stations and crossings.

Tickets for the Barcelona metro
A ticket for travel on the subway you can buy in Barcelonavending machines or ticket offices at all metro stations. You can select a single ticket, valid at the time in all kinds of Barcelona transport and a card for multiple trips - for example, transport T10 card entitles you to 10 trips, not only in the underground, but also other modes of transport in the city center, including express up airport. The validity of a ticket for a single transport card for a single trip or multiple trips to the modes of transport is not more than 1 hour and 15 minutes after the pass (composting).
Free maps for planning a trip can be found at the entrance to the subway, as well as the box office ticket sales.

Author: The Otpusk.ru

Photos of Barcelona Metro