Barcelona Viewpoints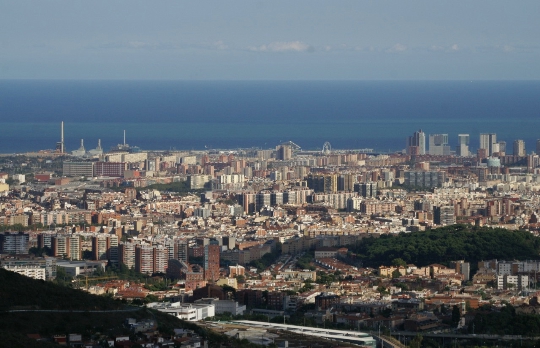 Barcelona - a city rich in museums, parks,monuments and other attractions that are visited by tourists and visitors. However, do not always have enough time to have time to survey all this, go in every little corner of interest. A good alternative, allowing even for one day to see almost the whole city, so even with the height - viewing platforms of Barcelona. With a panoramic view of the entire city, and a separate, well-known places of interest can be considered if you wish.
The most famous sightseeing area of ​​Barcelona
After studying and analyzing the responses of tourists prefer visiting the city to go to the observation deck, a list of the most popular review sites in Barcelona.
The Collserola Park is the same nameTower 288 meters high. The tower was built in 1992 by architect Foster in honor of the Olympic Games, which were held that year in Barcelona. The observation deck, a beautiful view of Barcelona, ​​located on the 10th floor of the building. Entrance to the site is worth 5.60 euros - adult ticket, 3.30 Euros - children. platform Working hours: 12: 00-14: 00 - 3: 15-20: 00 from Wednesday to Sunday (summer schedule - from July to August); 12: 00-14: 00 - 3: 15-18: 00 on Saturdays, Sundays and holidays (in the rest of the period of work, from September to June).
The observation deck on the mountain of Montjuïc. This is one of the most picturesque places in the city of Barcelona, ​​not to mention what a beautiful view of the city opens eyes of visitors from a height of 173 meters. Mount with a platform for the excursion is surrounded by a beautiful garden, where there are monuments and places dedicated to two important in modern life events in Barcelona - is held here in 1929 World Exhibition, and in 1992 - the Olympic Games. You can watch the gorgeous panorama of the city, to see the well-known in the city, "Singing Fountain". To get to the site can be by underground - to Parallel station and then by cable car to the station Mirador.
One of the major attractions andBarcelona is considered to be symbols of the Sagrada Familia. And if you are going on a tour to admire the cathedral itself and its interior decoration, do not miss the opportunity to climb the tower and enjoy the opening away views of the city. Particularly impressive and beautiful bird's-eye view looks Eixample district of the city. Council ready to receive tourists: from 9:00 to 18:00 from October to March; from 9:00 to 20:00 from April to September. However, while the lookout towers can vary depending on weather conditions, so it is better to clarify before visiting. To get to the cathedral by bus or subway (Sagrada Familia), entrance costs 19.30 euros and includes a visit to the Cathedral and one of lookout towers.
Photo